Cars, Beer, and Web Browsers
High-tech TV ads are everywhere. What's behind the blitz?
By Larry Armstrong in Los Angeles, with bureau reports
Business Week
May 12, 1997
Do you Yahoo!? Over the past year, the Internet startup has plastered the TV airwaves with this slogan in its so-called pond commercial--the one where an old fisherman is having no luck at his little pond. So he heads home and hops on the Net to type in the word "bait." Thanks to the Yahoo! search engine for scouring the Web, he's soon back at the pond reeling in 250-pound bluefin tunas while his ecstatic dog is barking like a hyena. Fade to black, and up come the words: "Do you Yahoo!?" The answer: Since that commercial has been running, five times as many people do.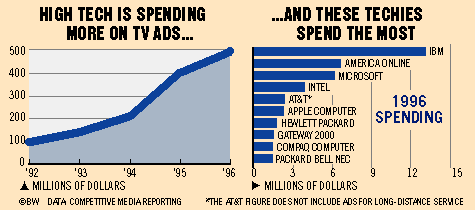 Ah, the power of advertising. Nowadays, if you click on the remote control, you can't escape a high-tech commercial. Click. Comedian Dennis Leary pokes fun at the Net for Lotus. Click. Astronaut Sally Ride wants you to connect with U.S. Robotics modems. Click. Packard Bell NEC Inc. would rather you were at home using your PC. Click. Isn't that Steve Case again, explaining why you can't log on to America Online? Click, click, click. For Madison Avenue, the MCI Communications Corp. ad may sum it up best: "Is this a great time to be alive or what?"
Brands
Technology companies are spending like never before. Last year, they ponied up an estimated $492 million for TV air time. While that's only a fraction of the $5 billion that car companies pour into commercials each year, it's a 23% jump over what tech companies spent the year before and more than double the $208 million tab just two years earlier. And the ad spending is not likely to let up this year. Such companies as Sun Microsystems Inc. and Lycos Inc. recently launched their first-ever TV ad campaigns, and Dell Computer Corp. is rumored to be starting one later this year.
What's up? Why are technology companies, longtime advertisers in magazines ($3 billion last year) and newspapers, suddenly taking their message to the tube? The biggest motivator is that high-tech products are becoming commodities. Personal computers and printers, for example, have become all but indistinguishable, except for the name on the box. Internet service providers offer the same access, for the same price. And the barriers to entry in cyberspace are so low that Web companies are scrambling to build a brand name faster than their competitors so they won't be cyberhistory. "It's just like beer, or cars," says Karen Edwards, Yahoo! Inc.'s director of brand management. "The products are similar enough that image has a lot to do with why people buy one instead of the other."
Think of it as the branding of high tech. From modems to PCs to Internet search software to the rarified world of groupware, technology companies are trying to plant an image in the minds of consumers. Software giant Microsoft Corp. has been making the most of branding since it began a TV blitz in 1995. Now, Microsoft is spending $61 million on TV ads, in part to make sure the answer to the question of "Where do you want to go today?" is the Microsoft Network--not AOL and certainly not Netscape Communications Corp. "I've yet to be in an industry where the No.1 brand isn't also the No.1 company," says Robert W. Pittman, president and CEO of America Online Networks, the flagship subsidiary of America Online Inc., which is spending about $66 million on TV ads to outsell Microsoft.
There's another catalyst behind all these digital-future commercials. High-tech advertisers are also counting on TV to expand their markets. Consider home PCs. Already, 40% of homes now have a computer, but growth in that market is slowing this year to about 13%, down from the heady 20%-to-30% clip of the past few years. Experts say the pool of tech-hungry buyers may be drying up, so PC makers are hoping a new wave of ads extolling the joys--and ease--of computing can help penetrate the broad consumer market. "Every company is seeing the same thing we are," Pittman says. "The group of early adopters is 100% penetrated, so everyone is now going after the mass market. To do that, they have to use TV, the mass-market tool."
Fine. But is it working? There is one promising sign: Market researcher International Data Corp. says U.S. PC shipments in the first quarter of this year rose 20%, up from 14% for the same period a year earlier.
But for the most part, it is devilishly difficult to measure the results of TV advertising. That's because brand advertising isn't aimed at triggering an immediate action. When you see a Miller beer commercial on TV, for example, you don't flip off the TV and get in your car to go buy a six-pack. TV advertising is designed to hammer home the product name with so many impressions over time that during the next visit to the store, you think of Miller first. Advertisers try to keep track of such measures as brand awareness, likability, and intent to purchase, but any payoff to the bottom line is measured in years.
Take Packard Bell NEC. Its dramatic TV spots paint a dark and sinister view of the drudgery of everyday life. A young woman, for example, ages into near dust as she waits in line to do her banking--before the camera sweeps the viewer off to a Technicolor cartoon world with a cheerful house and computer. The tag line: "Wouldn't you rather be at home?" Packard Bell spent $13 million on the campaign in the last quarter of 1996, and it's continuing this year.
The results? Packard Bell hired a market-research company to do pre- and post-ad studies to measure brand awareness, usually determined by an open-ended question such as: "What computer companies' ads have you seen?" Before the campaign started, 18% named Packard Bell. After just five months, the number rose to 29%. The other score the company looked at was "next intended purchase," asked of those respondents who said they planned to buy a PC in the next six months. In the pretracking study, 13% named Packard Bell. After the campaign, 24% did. Still, there's no sign that the company's 10.1% market share has rebounded to the 14.1% it had a year ago.
For Internet companies, the results show up much faster. Witness Auto-By-Tel Corp., a $5 million company that brokers cars on its Web site. It launched its first TV campaign in January with a 30-second Super Bowl spot. "We knew instantly that it was successful," says Betsy Isroelit, senior vice-president at Los Angeles-based RBI Communications Inc., the company's ad agency. "We had a huge spike during halftime, and it hasn't stopped since." In the five days following the Super Bowl, purchase requests were up 66% over the first 25 days of January. Auto-By-Tel has continued its network-TV campaign, and it's still seeing 50% more requests than the 40,000 a month it was getting before.
Still, much of the evidence is anecdotal. Excite Inc., an Internet search-engine company, last October launched an edgy, $10 million campaign featuring Jimi Hendrix singing Are You Experienced? Excite wasn't prepared for the overload on its computers. "The first night we were on the air it was breathtaking," says Scott Epstein, director of marketing. The next day, Excite saw a 30% increase in traffic over its daily average.
Yahoo! says it, too, knows its campaign is working. While the "search" button on Netscape's Web browser calls up four different search engines, "people choose us more than the other guys," Edwards explains. "It makes sense to make sure you have the name brand so people try you first." The power of TV is so important, she says, that the company does no print advertising. And on May 11 it will start running another TV spot called "Hairstyle."
How powerful is TV? Look at Intel Corp. Unlike most tech advertisers, the chip giant doesn't even have a product to sell to consumers. But its "Intel Inside" TV advertising has convinced computer buyers that if their PC doesn't have the "Intel Inside" sticker on it, then it's a clunker. To counter, competitor Advanced Micro Devices Inc. launched a TV campaign with the April introduction of its K6 computer chip, a processor aimed directly at Intel's Pentium.
For Intel, ads have worked so well that it popped for a pair of $1.2 million 30-second slots during the Super Bowl to launch its new Pentium multimedia computer chips. Workers in brightly colored "bunny suits" jitterbug away to Play that Funky Music. The Super Bowl spots helped spur such brisk sales of PCs that Intel can't make enough of the chips to keep up with demand.
Intel's not the only one benefiting from its program. Madison Avenue may owe the chip giant thanks for the huge swell of high-tech ads. Ever wonder why every PC ad on TV ends with Intel's signature four-note audio ''bong,'' as it's called? Starting last year, Intel began paying for half of its customers' broadcast ads if they included a mention of ''Intel Inside'' and the bong. These subsidies will cost Intel an estimated $750 million in 1997. That eased the move to TV for such companies as Packard Bell, Acer America, and Gateway 2000. And it brought such leading PC companies as Compaq Computer Corp. and IBM, which once refused to advertise that their computers had "Intel Inside," back into the fold. Both ranked in the top 10 list of tech advertisers last year.
You can almost hear Madison Avenue shouting yahoo!
Copyright 1997, by The McGraw-Hill Companies Inc. All rights reserved.