The e.biz 25: Masters of the Web Universe

The Internet pioneers of the inaugural BUSINESS WEEK e.biz 25 are changing the competitive landscape of almost every industry in the world

By Steve Hamm
Business Week

September 27, 1999

Since the advent of navel gazing, wise men have debated whether economic progress should be credited more to the introduction of new technologies or to the people who put them to exceptional use. It's typically a fruitless exercise--like trying to figure out how many angels can dance on the head of a pin. But in the case of the Internet, there's something in the yin and yang of man and machine that's well worth contemplating. It's clear that while technology laid the foundations for the Web's first wave, it is sharp thinking by individuals that's powering the second wave--the e-business revolution.

Thus, we offer up BUSINESS WEEK's inaugural e.biz 25. It's our celebration of the innovators and influencers who are doing the most to spark a transformation of society that is every bit as profound as the Industrial Revolution. This is the PC biz times 1,000. That's because these 25 larger-than-life characters, and thousands more who are aspiring to be just like them, are determined to overthrow the old world order. Forget paper, fax, phones, and all those rabid sales people. The Internet way calls for direct contact between buyer and seller, collapsing space and time while cutting costs. ''The Internet is not only creating a new industry in itself but changing the competitive landscape of every industry in the world,'' says Benjamin M. Rosen, the chairman of Compaq Computer Corp. (CPQ)

So who made BUSINESS WEEK's e.biz elite? Some of our picks are already bona fide captains of industry--like Yahoo! (YHOO) Chief Executive Timothy Koogle, financier Masayoshi Son of Softbank Corp., and e-commerce king Jeffrey P. Bezos of Amazon.com Inc (AMZN). Others are as-yet unproven Netrepreneurs who made the list because of the radical trails that they're blazing--like Webvan Group Inc.'s Louis H. Borders, of Borders (BGP) bookstore fame, who is turning his mathematical prowess on a huge Web conundrum: How to deliver perishable foods to cybershoppers everywhere.

Daredevils. And then there are the best-kept secrets: Goldman Sachs & Co. tech IPO quarterback Lawton W. Fitt, for example, who laid the groundwork for the launch of 22 highfliers this year. Ever heard of Glen T. Meakem? You will. The founder of FreeMarkets Inc. is challenging fixed pricing by making it possible for all manner of businesses--even coal mines--to use the Web for their auctions of products and services.

It was no cinch to pick the 25 ultimate Netheads. We brainstormed and amassed a master list of more than 100 names. Then, over the course of three weeks and with much, er, spirited debate, the best of those rose to the top as the standouts we believe are most profoundly influencing the Internet today. They're the empire builders, the innovators, the bankrollers, the architects, the visionaries, and the pacesetters--daredevils who gladly risk all and leap the chasm between what they know and what they believe.

Here's a sign of how much things have changed. The daredevil of the PC generation is not on our list: William H. Gates III. It wasn't so long ago that the honcho of Microsoft Corp. (MSFT) seemed to have the computer industry in a brainlock. But now we're seeing the wholesale redistribution of leadership in the technology industry. Like the Web itself, the Internet industry has no center of gravity. It's creative chaos incarnate. Now, someone at Noname.com is just as likely to create the next great business as is someone at Microsoft. ''The beauty of the Web is that it's open to everybody,'' says Scott G. McNealy, CEO of Sun Microsystems Inc. (SUNW) Everybody gets to stand on the shoulders of everybody else's work. That's why everything's accelerating.''

Eventually, things will slow down. Power will coalesce, too. But don't expect the Internet to mimic the PC industry, with only a duo of dominant players. That's because the Net's technology underpinnings are not owned by one company--the way Microsoft owns Windows on PCs. Ron Chernow, author of Titan: The Life of John D. Rockefeller, Sr., doubts that anybody will be able to control the Internet the way Rockefeller controlled oil. ''It's a very greasy pole,'' he says. ''It's very difficult to maintain a dominant hold because of the speed of change and the competition that can emerge from unexpected areas.''

The members of our e.biz 25 don't take their successes for granted. Even Bezos doesn't rule out the possibility that his seemingly unbeatable company might end up being just a ''footnote'' in e-commerce history. Or not. The fact that he's so watchful could assure that he will make our list for years to come.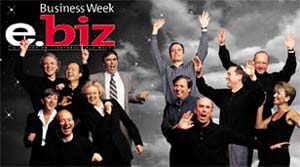 Left to right, top row: Tim Koogle, Yahoo! Masayoshi Son, Softbank.
Jay Walker, priceline.com. Louis Borders, Webvan. John Hagel, author.
Middle row: Mary Meeker, Morgan Stanley. Meg Whitman, eBay.
Christos Cotsakos, E*Trade. Glen Meakem, FreeMarkets. Lawton Fitt, Goldman Sachs
Front row: Jeff Bezos, Amazon.com. Dave Peterschmidt, Inktomi.
Photograph by Alan Levenson, background and composition by Dennis Chalkin
---
Empire Builders

Jeffrey P. Bezos
AMAZON.COM INC.

Stephen M. Case
AMERICA ONLINE INC.

Timothy A. Koogle
YAHOO! INC.

The Innovators

Louis H. Borders
WEBVAN GROUP INC.

Jay S. Walker
PRICELINE.COM

Margaret C. Whitman
EBAY INC.

Glen Meakem
FREE MARKETS ONLINE INC.

James H. Clark
MYCFO INC.

Christos M. Cotsakos
E*TRADE GROUP INC.

Bankrollers

Masayoshi Son
SOFTBANK CORP., JAPAN

Robert C. Kagle
BENCHMARK CAPITAL

Lawton W. Fitt
GOLDMAN SACHS & CO.

L. John Doerr
KLEINER PERKINS CAUFIELD & BYERS

Bernard Arnault
LVMH MOET HENNESSY
LOUIS VUITTON

The Visionaries

Mary G. Meeker
MORGAN STANLEY DEAN WITTER

John Hagel III
MCKINSEY & CO.

William Joy
SUN MICROSYSTEMS

The Architects

Louis V. Gerstner Jr.
IBM CORP.

Pehong Chen
BROADVISION INC.

David C. Peterschmidt
INKTOMI INC.

Kevin J. O'Connor
DOUBLECLICK

Ellen M. Hancock
EXODUS COMMUNICATIONS

The Pace Setters

David S. Pottruck
CHARLES SCHWAB CORP.

John T. Chambers
CISCO SYSTEMS

Michael S. Dell
DELL COMPUTER
---
Stephen M. Case
By Catherine Yang
Stephen M. Case is to the Internet what RCA's David Sarnoff was to television. More than any other leader in e-business, the 41-year-old chairman of America Online Inc. (AOL) is responsible for bringing the Internet revolution to the masses. By making online access convenient and entertaining, AOL has attracted 20 million subscribers, making it by far the world's largest Internet access provider.

For Case, this is just the beginning. With this potent new medium, he wants to transform the lives of tens of millions of people worldwide--and build a vast cyber empire in the process. Case predicts people everywhere will use their online connections daily to communicate, work, shop, and entertain themselves. ''Instead of viewing the PC as a productivity machine, we've turned it into a communication device,'' says Case. ''It's about...building a sense of community and engaging people.''

His goal, which he dubs the AOL Anywhere strategy, is to make sure that no matter what device or type of service consumers may favor, AOL will remain a trusted, easy-to-use gateway to the Web. The company is working to provide service on the popular handheld Palm computer.

It also has teamed up with satellite broadcaster DirecTV to bring AOL to television--still the most popular appliance in the house.

Long-term, Case expects his biggest rivals will be goliaths Microsoft Corp. (MSFT) and AT&T (T). But by blanketing the landscape--to extend people's everyday lives online--Case thinks AOL could vie with them in the 21st century. ''We have a shot at being the most valued and respected company in the world if we play it right,'' he says. So far, he's playing it impeccably.
STEPHEN M. CASE
AMERICA ONLINE INC.
Position: Chairman and CEO

Contribution: Attracted 20 million customers by making logging onto the Internet easy and fun. Everybody else is playing catch-up.

Ambition: To make AOL the gateway to e-commerce and one of the world's most valuable companies.
---
James H. Clark
By Steve Hamm
When James Clark's new $30 million high-tech sailboat, Hyperion, was formally handed over to him at a Netherlands shipyard in January, the co-founder of Internet pioneer Netscape Communications Corp. (AOL) envisioned a leisurely life on what he called a "luxury floating RV." Well, you can stuff that dream in a bottle and toss it out to sea. Instead, the serial entrepreneur is spending virtually 100% of his waking hours as CEO of yet another startup, myCFO Inc., a personal money-management service.
There's just too much happening on the Internet for Clark to take a vacation. But he has only himself to blame. Five years ago, after leaving the first company he started, 3-D pioneer Silicon Graphics Inc. (SGI), he and programming whiz Marc Andreessen launched the Net revolution with their Netscape Navigator browser. It was that small, simple program that brought the power of the Net to regular folks.
And Clark hasn't stopped there. He turned his attention to developing services that take advantage of the Net. First, he co-founded Healtheon Corp. (HLTH), a high-profile Web-based service for managing health care. And now he is focusing on personal finance, another fat target. "I like to look at big markets and see if I can carve off a thick slice," says Clark, 55, who estimates his net worth at upwards of $1.8 billion. If the Net action doesn't let up, he may never get back to his luxury floating RV.
JAMES H. CLARK
MYCFO INC.
Position: Founder and CEO
Contribution: Arguably the father of the commercial Internet. Started Silicon Graphics, Netscape, Healtheon, and myCFO.
Ambition: To keep launching companies that satisfy his intellectual curiosity or solve a problem he knows personally.
---
L. John Doerr
By Janet Rae-Dupree
Venture capitalist L. John Doerr is a one-man Internet hit parade. Netscape (AOL), Amazon.com (AMZN), Healtheon (HLTH), drugstore.com (DSCM), @Home (ATHM), Excite--each received initial funding and early nurturing from Doerr. Sure, the Kleiner Perkins Caufield & Byers partner has had his losers in the past. Remember pen computing? Nevertheless, ever since he took a chance on Netscape Communications Corp., Doerr has wielded the Midas touch. ''John Doerr is not only the best venture capitalist in the world, but he is also one of the top business leaders,'' says Cisco Systems (CSCO) CEO John T. Chambers.

Doerr is also a master matchmaker. Who would have thought a bookstore had anything to teach a drugstore? Yet when drugstore.com's fledgling team needed some lessons in online retailing, Doerr arranged to have them mentored by a really big brother in the Kleiner keiretsu--Amazon.com Inc. And when then-@Home, the cable Internet access company, needed content as well as bandwidth, Doerr engineered its merger with Internet portal Excite.

Where is Doerr applying his artistry next? His latest ideas whirl around handheld computers. Five years from now, he says, people will tap the Internet far more frequently from palmtop devices than from desktop computers. By investing in Handspring Inc., a startup handheld computer maker, Doerr believes he once again has positioned Kleiner Perkins at the forefront of a revolution. ''Much sooner than a PC on every kid's desk, we'll have a handheld in every kid's pocket,'' he says. If that comes to pass, once again, Doerr will be the man who has beaten the venture-capital pack to the Next Big Thing.
L. JOHN DOERR
KLEINER PERKINS CAUFIELD & BYERS

Position: General Partner

Contribution: Backed blockbuster Net pioneers like Netscape, Amazon.com, and Excite. Knits startups together with the famed Kleiner keiretsu.

Ambition: Leverage the keiretsu to create whole new industries on the Web--including health care
---
Ellen M. Hancock
By Peter Burrows
In July, 1997, Ellen M. Hancock had a serious self-confidence problem. Despite a 29-year career at IBM (IBM), she was pushed out as chief technologist of Apple Computer Inc. (AAPL) by the mercurial Steven P. Jobs. She wondered if she should bother seeking a CEO job given what she describes as a sullied reputation.

Her blue period is over. Since joining Exodus Communications Inc. (EXDS) in March, 1998, Hancock, 56, now CEO, has emerged as a driving force behind one of the hottest new trends in cyberspace: Web hosting. With Internet startups and old-guard behemoths alike wanting to get on the Net with a minimum of money and hassle, dozens of companies have sprung up, offering to run their Web operations for them. Hancock offers a sorely needed nuts-and-bolts approach that is convincing customers they can entrust their most vital computing jobs to outsiders via the Web. Next up: She plans on making Internet communications more secure by running them across private networks. ''We think we can change the way the Net looks and feels,'' she says.

Clearly, Hancock has the right formula. With a network of 22 data centers around the nation, Exodus, now No. 3 in Web hosting, is catapulting toward the front of the pack. Last year, the company's revenues grew a staggering 308%, to $215 million, and forecasts call for their doubling again this year.

While memories of her time at Apple still smart, Hancock is just relieved she didn't finish her career there. Instead, she has forged a critical place for herself in the New Economy.
ELLEN M. HANCOCK
EXODUS COMMUNICATIONS

Position: CEO

Contribution: Proved that data-centers-for-hire can be trusted to handle corporations' most vital information over the Net.

Ambition: Make the Web as reliable and taken for granted as the phone system.
---
Copyright 1999, by The McGraw-Hill Companies Inc. All rights reserved