AOL, Amazon, Yahoo dive
Internet stocks hit 52-week lows on advertising, e-commerce worries
October 17, 2000
NEW YORK (CNNfn) - Internet bellwethers America Online, Yahoo! and Amazon.com were dragged down to their lowest points in a year Tuesday, fueled by concerns that online advertising, a key revenue generator, has crawled to a standstill.
In early afternoon trade, America Online tumbled more than 13 percent, off $6.95 to $45.66, falling below its previous 52-week low of $48.19, reached in February.
Yahoo! plunged 10 percent, off $5.50, to $49.75, below its previous low of $54.75 reached Friday after the portal posted third-quarter earnings. While the results beat Street expectations by a penny the stock plummeted 21 percent after management acknowledged that the Internet advertising industry is experiencing difficulties.
And beleaguered Amazon.com, which has yet to turn a profit, spiraled down 12.3 percent, or $3, to $21.31, recovering slightly from a 15 percent drop Monday, but bypassing its previous 52-low of $23.50, which it hit Friday.
Softness seen for dot.com ad spending
While Internet analysts long have predicted a slowdown in online ad spending, newly revised estimates show greater dips than previously expected. Merrill Lynch last week said it cut estimates for 2001 online ad spending from 30 to 40 percent growth to 15 to 20 percent growth.
Merrill Lynch's research report about the advertising industry also noted that "as a result of the dearth of dot.com spending," it lowered its forecast for the sector as a whole, and said that in 1999 it saw Internet firms spend $3.5 to $4 billion in advertising in traditional media outlets.
"We now expect this figure to grow to $5 to $6 billion this year, less than originally forecast when dot.coms could do no wrong."
AOL ad revenue, merger worries
America Online, analysts said, can trace its slumping stock to mounting concerns that the continuing slowdown in online advertising will take a bite out of earnings. AOL is due to report fiscal first quarter results Wednesday, with the Street looking for a profit of 13 cents a share.
Also weighing on AOL shares are merger concerns with Time Warner. Media reports said negotiations with the Federal Trade Commission may have stalled over concessions the government wants from AOL before granting regulatory approval. The deal is expected to close later this fall. Time Warner is the parent of CNNfn.com.
Merrill Lynch analyst Henry Blodget said Tuesday in an earnings preview report that he expects a "solid though unspectacular quarter from AOL."
Blodget also noted AOL's dependence on advertising growth on the network, but noted its revenue diversification, which he said the Time Warner alliance will contribute to.
"The majority of AOL's profits are derived from its pure advertising and commerce revenue, so strong sequential growth in this line is critical to the long-term growth story," Blodget said.
"This is a revenue segment that is comparable to Yahoo!'s revenues, which were up 8 percent sequentially in the September quarter. Our pure ad/com estimate for AOL is $529 million, up 5 percent sequentially," Blodget said.
Analyst remains cautious on Yahoo!
Yahoo! has suffered mightily since reporting its third quarter results, even though it beat Street expectations.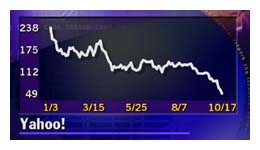 The problem? Declining ad spending online, which Yahoo! management admitted to analysts during the company's conference. That contributed to shares staggering lower, down 72 percent year-to-date.
Lehman analyst Holly Becker, who has consistently focused a harsh light on the portal and rates it a "neutral," issued further caution in a research note Tuesday.
"The company must now prove that online advertising is cost effective and integral to the marketing mix of traditional advertisers," Becker said. "There is an expectation that after six to nine months of calling on traditional advertisers, dollars will come pouring in. Our research suggests that turning 'toe-dipping' budgets into real dollars may take over two years," Becker said.
Yahoo!'s efforts toward revenue diversification were noted by Becker, who applauded its initiatives in enterprise solutions, wireless and e-commerce offerings, but said that the fruits of those labors may not be seen for some time. More worrisome, Becker said, is Yahoo!'s heavy dependence on its advertisers.
"Yahoo! finally disclosed its exposure to dot.com companies at a whopping 40 percent of total sales," Becker said. "We estimate that this translates into over 50 percent of U.S. advertising sales and over 60 percent, if you include dot.com subsidiaries.
"While only 10 percent are considered 'financially troubled,' virtually every Internet company we have come across is tightening its belt. Clearly, the company has a lot of work in front of it," Becker said.
Amazon mulls offering?
Amazon's most recent freefall comes after the week-end edition of Barron's reported on rumors that the online retailer is mulling the possibility of an equity offering reaching as much as $1 billion in stock.
Amazon saw a severe sell-off back in June when Lehman debt analyst Ravi Suria characterized Amazon's credit worthiness as "extremely weak and deteriorating."
"Going into an environment of increasing competition, expanding business segments and an expected jump in inventory, Amazon's cash flow situation is likely to worsen," Suria said.
Barron's noted that an equity sale at current rock-bottom prices likely would "enrage many shareholders who bought stock at much higher levels."
Despite the spate of gloomy news, some analysts are predicting a re-emergence in the dot.com sector. Lehman's Becker said she still sees Yahoo! standing apart from the cluttered Internet playing field, "in an industry plagued with inexperience management teams, which are often big on vision, but fall short on execution."
Becker said there is light at the end of the dot.com tunnel and believes that "online advertising will become a large, profitable business, and Yahoo! and AOL stand to be the winners."
-- from staff and wire reports
© 2000 Cable News Network