Mack back on Wall St.
New York, July 12, 2001 Posted: 2043 GMT (CNNfn) -- Credit Suisse First Boston ousted CEO Allen Wheat and named John Mack to replace him as the investment bank faces a probe of its IPO allocations.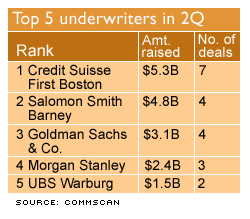 Mack, 56, is the former CEO of Morgan Stanley who resigned in January. Mack will replace Wheat "effective immediately," the company said.
Wheat's position had come under pressure amid recent allegations and investigations by the U.S. Securities Exchange Commission and the National Association of Securities Dealers that the investment bank had improperly allocated shares in IPOs.
Wheat, who has been with CSFB since 1990 and was appointed to his current position in 1997, "is leaving Credit Suisse Group to pursue other interests," the company said.
CSFB, the banking unit of Credit Suisse Group, in June fired three brokers in its San Francisco office as the result of the IPO probe. CSFB's actions against the three employees were the result of its own internal investigation.
Credit Suisse Group CEO Lukas Muhlemann insisted Thursday that Wheat's departure had nothing to do with the current IPO investigation.
Incoming CEO Mack declined to comment on the future of Frank Quattrone, who is credited with building the technology-banking powerhouse at CSFB. Quattrone helped make CSFB into a leading underwriter of IPOs.
Credit Suisse First Boston beat out A-list rivals Goldman Sachs and Morgan Stanley to gain the top underwriter spot in the second quarter. CSFB served as lead book runner on seven IPOs, including the Kraft IPO, and raised $5.4 billion, according to data from CommScan, a New York-based investment banking research firm.
The move could be used by CSFB to try to persuade government authorities that the firm is taking steps to shore up loose management controls, the Wall Street Journal said before the news was announced.
Credit Suisse Group, Switzerland's second-largest bank, said the asset management business will be combined with CSFB, starting January 2002. Mack will manage the combined new group.
"John Mack is ideally suited to lead our combined investment banking and asset management business," Credit Suisse Group Chief Executive Lukas Muhlemann said. "He is well known and highly regarded worldwide as an executive with integrity, strategic vision and intense focus on clients' needs."
Credit Suisse Group, the parent firm, agreed to acquire U.S. investment bank Donaldson, Lufkin & Jenrette Inc. for about $11.5 billion in cash and stock last August.
On a conference call, Mack, whose cost-cutting measures are infamous, indicated that expenses may be too high, which means he could be taking actions to streamline the operations.
"We have room for improvement," he said. "Clearly some of that is as a result of the large merger. I am comfortable there is a lot of room for improvement."
Joining a rival
Mack, 56, is considered one of Wall Street's top executives and is credited with the successful merger of Morgan Stanley with Dean Witter & Co. in 1997. The $10 billion transaction combined Morgan's vaunted institutional brokerage with the nation's third largest retail network of Dean Witter.
As part of the mega merger, Mack, the former head of Morgan Stanley, stepped into the No.2 spot (president and COO) of the combined firm, allowing Phil Purcell, who hailed from Dean Witter side, to act as CEO.
Mack, who joined Morgan Stanley in 1972, resigned last January when he reportedly failed to ascend to the CEO position. Nicknamed "Mack the Knife," his instinctive management style also apparently clashed with Purcell's more deliberate approach.
Now he has joined a top rival of Morgan Stanley. At CSFB, Mack will preside over the newly combined investment banking and asset management business.
Mack will also oversee the banking empire of Frank Quattrone, who helped spearhead the rise of CSFB's technology dominance in new issues. CSFB took the lead spot for IPO book runners in second quarter while Morgan Stanley dropped to fourth with three deals raising $2.4 billion.
But the rankings changed for global mergers and acquisitions transactions announced during the first half of this year. Morgan dropped to third with 135 deals raising $198.2 billion while CSFB, which also advised on the most deals this year, fell to fourth with 115 transactions raising $105.2 billion, according to data from Thomson Financial Securities Data.
© 2001 Cable News Network LP, LLLP.