Scott McNealy's Rising Sun
How he's taking the computer maker to new heights
By Robert D. Hof in Mountain View, Calif. With Kathy Rebello and Peter Burrows in San Francisco and bureau reports.
Business Week
January 22, 1996
Scott McNealy was dog-tired. For weeks, the chief executive of Sun Microsystems Inc. had been sealing deal after deal for Java, Sun's red-hot Internet software. By the first week in December, a bunch of the top names in computing--everyone from Internet star Netscape Communications to database kingpin Oracle Systems to IBM--had endorsed Java. Everyone, that is, except Microsoft Corp. The software giant was holding out for the same reason everyone else was so excited: Java programs run on any hardware or operating system, bypassing Bill Gates's cash cow, Windows.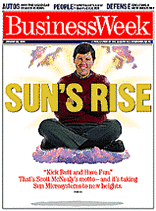 After three frenzied days of meetings in New York, McNealy was looking forward to a full night's sleep. All the schmoozing--including talks with IBM CEO Louis V. Gerstner Jr. that had yielded a promise by the world's biggest computer maker to use Java--was taking its toll. And back home, McNealy's 4-week-old firstborn had been cutting into his shut-eye. The following day, Dec. 7, would be another marathon: an interview at CNBC, customer meetings, and a trip home on the leased corporate jet in time for a business dinner--and a San Jose Sharks hockey game.
No Lightweight. At 2 a.m., the phone in his room at the Grand Hyatt jangled McNealy awake. It was Sun co-founder and Javameister William N. Joy with big news: Joy had just received a fax from Microsoft Senior Vice-President Roger Heinen. Microsoft had agreed to license Java on Sun's terms--ending four weeks of negotiations. Time to uncork the bubbly? Or spread the word across the Net? No way. Chronically sleep-deprived, McNealy mumbled, "Great job," and rolled over.
Correction: incredible job. Microsoft's capitulation stands as a defining moment for Sun and its 41-year-old CEO. For more than a decade, McNealy has shouted himself hoarse preaching the gospel of network computing--the notion that you begin to realize the true value of computers only when they work together in networks. The message worked well with technically demanding customers in engineering departments and Wall Street trading rooms, who couldn't survive on ordinary personal computers and their crude local-area networks. So Sun became tops in engineering workstations. But it barely made a dent in the far larger market for mainstream office computers. By the early 1990s, sales slowed, profits dropped, and it seemed the company would never break into the big time.
That, however, was before the Internet explosion and Java. With businesses tripping over themselves in the past 18 months to get on the Net, Sun's mantra--"The Network is the Computer"--has begun to resonate around the globe. Even the mighty William H. Gates III--whose software dominates the huge PC market--concedes that McNealy's Sun has the right stuff for the next era of computing.
That Sun now finds itself in the center of the computing universe has a lot to do with the unlikely character at the top. The toothy, boyish-looking McNealy has an unusual resume in an industry driven by technical whizzes and creative entrepreneurs. Unlike Gates or Steven P. Jobs, he didn't drop out of college to answer the call of the burgeoning PC business. Nor did he work his way up through engineering, as did Intel Corp.'s Andrew S. Grove and dozens of other Silicon Valley execs.
You won't find McNealy sweating over computer code down in the engineering lab. He studied economics at Harvard University and got his MBA at Stanford. His passions are hockey and golf. And he's famous for sophomoric pranks and shoot-from-the-lip one-liners. Typical of his wit is this assessment of Microsoft's Windows and MS-DOS: "whipped cream on a road apple."
But McNealy has proved to be anything but a lightweight. Indeed, while CEOs with better technical credentials have flamed out--flitting from one techno-fad to another or neglecting the fundamentals of the business--McNealy has emerged as one of the Valley's most respected managers. Programmer-turned-entrepreneur Lawrence J. Ellison, CEO of Oracle, salutes McNealy's blend of talents. "There are two things I think about Scott," says Ellison. "One is passionate leadership, and the other is his rigorous financial management. And that's uncommon to find in one person. Usually, the financial guys aren't so outspokenly passionate, and all leaders are not detail-oriented."
Those talents, plus a killer competitive instinct and nonstop drive, have kept Sun on course through a decade of wrenching change in the computer industry--while IBM stumbled and new leaders such as Intel and Microsoft emerged. Now, Sun has a shot at the leadership in the network era.
Toy Story Glory. As McNealy has long predicted, the network has won. The typical stand-alone PC, he insists, has been a complex time-waster, a "hairball on the desktop." Now, thanks largely to the Net, consumers and businesses have come around to Sun's view: When computers are networked, their power multiplies geometrically. Not only can people share all that information inside their machines but they can reach out and instantly tap the power of other machines--essentially making the entire network their computer.
Sun didn't exactly invent network computing, but it can claim to be the only pure play in the business. The two technical forces behind Sun--co-founders Bill Joy at the University of California at Berkeley and Andreas V. Bechtolsheim at Stanford--had been computer-science students at a time when many of the networking technologies that formed the basis of the Net were created. They built that technology into Sun's first computers in 1982 and into every Sun machine since.
Now, all this is paying off. Already, approximately 35% of all the World Wide Web servers in the world are Sun machines. And as companies adopt Internet standards for internal networks, they are turning to Sun. Federal Express, Gap, AT&T Universal Card Services, and Charles Schwab all use Sun networks. And thanks to the new UltraSPARC chip, Sun's workstations are once again on the leading edge. Sun machines recently stole some of Silicon Graphics Inc.'s Hollywood pizzazz by helping to create the blockbuster movie Toy Story.
In Sun's first fiscal quarter ended Sept. 30, earnings jumped 120%, to $85 million. That followed an 82% hike in fiscal 1995, to $356 million, on a 26% jump in revenue, to $6 billion. Sun's stock tripled, from 16 to 45 5/8 since last year, adjusted for a 2-for-1 split on Dec. 12. But like other technology companies, Sun's stock has been giving back recent gains, plunging 6.8% on Jan. 9, to 37 3/8. Typically, McNealy isn't satisfied, complaining that other companies--including newcomer Netscape--rate higher price-earnings ratios. His New Year's resolution: a $100 stock price by yearend.
Pretty heady stuff. "We're all having a blast," McNealy says. But nobody's goofing off, least of all McNealy. He's painfully aware that this golden moment will soon pass. "I just wish I didn't have to sleep," he says.
In the meantime, Sun still faces big challenges. For one, despite the buzz about Java, the company still has to figure out how to make it a business (page 73). And there's a downside to the triumph of Sun's network vision: Every computer maker now shares it and is gunning for Sun. At the same time, Intel and Microsoft continue to push PC performance into workstation territory, and Sun's workstation rivals are coming on strong. What's more, the company's ascent into the top tier of computer makers puts new demands on Sun. In addition to pumping out killer hardware and software, it also must cater to the needs of big customers--the way rivals IBM, Hewlett-Packard, and Digital Equipment long have done.
That's why, after a short Christmas break with his family--his wife of 16 months, Susan, and son, Maverick (the name will be redundant, boasts Dad)--McNealy is back to his 80-hour weeks and heavy travel schedule. "We have too much work to do," he says.
Besides, he loves the pace. In fact, he was born to it. His father, R. William McNealy, was vice-chairman of American Motors Corp. By the time he was a teenager, Scott was spending evenings with his dad, poring over AMC memos and golfing in foursomes with such industry luminaries as Lee A. Iacocca. Scott says he saw how AMC was marginalized because it never had sufficient market share--and he has vowed to make sure that doesn't happen to his company.
At Cranbrook Kingswood School, a prep school north of Detroit, McNealy emerged as a leader, captaining the tennis team. At Harvard, he became interested in economics--thanks in part to class section leader William J. Raduchel, who would later become McNealy's chief information officer and corporate development chief at Sun.
But McNealy was not a standout student. He was rejected from both Harvard and Stanford business schools--three times from Stanford. So he took a job as foreman at a Rockwell International Corp. plant in Ashtabula, Ohio, in 1976. The company was rapidly building truck hoods in expectation of a strike. The grind was so hard--two months of 14-hour days--that McNealy says it led to a bout of hepatitis that kept him hospitalized for six weeks.
"Kind of a Goof-Off." When he finally did get into Stanford, his study habits and choice of curriculum didn't scream "CEO material." For one thing, he focused on manufacturing at a time when finance was the route to the top. Moreover, classmates say McNealy preferred playing golf to attending classes. "He was kind of a goof-off," says Curt Wozniak, a Stanford buddy and former Sun engineering vice-president. McNealy says he just didn't bother attending classes that he didn't think would help him get a job. "I minimized hours per grade point," he boasts. After graduating, he took undistinguished manufacturing jobs at tankmaker FMC Corp. and minicomputer maker Onyx Systems.
In those days, McNealy seemed determined not to pursue his dad's CEO quest. He once vowed never to work as hard as his father: That workaholism eventually led McNealy's parents to divorce. Instead, McNealy dreamed of running a small machine shop he could give to his kids and retiring early.
Then, in 1982, came the call that would change McNealy's fate. Former Stanford classmate Vinod Khosla asked McNealy to join him and computer designer Bechtolsheim in starting Sun. McNealy's manufacturing skills enabled the young company to keep up with wild demand as sales soared from $9 million in 1983 to $39 million in 1984. McNealy says he got manufacturing humming so well that soon he wasn't getting enough orders to sop up production. So he started running sales. But the new orders outstripped the cash available for expansion. So McNealy was tapped to look for help--and he settled on customer Eastman Kodak Co., which was using Sun workstations in a microfilm project.
McNealy's tenaciousness and quick thinking impressed J. Philip Samper, then executive vice-president at Kodak. As a condition of investing $20 million, Kodak insisted McNealy take over as president in 1984. Samper later served as president of Sun's hardware unit. At about the same time, then-CEO Khosla left in a dispute with the board, so McNealy was appointed president, at least until the board found someone with more experience. But Sun's fortunes rocketed, and the directors stopped looking for a replacement. At 30, McNealy was officially named CEO.
McNealy soon etched his image on the industry. Although he says he dislikes being described as brash--his tag in dozens of newspaper and magazine stories--brash he was. In 1987, Sun joined with AT&T to develop a new version of the Unix operating system. IBM, DEC, HP, and other computer makers struck back by forming the Open Software Foundation to create another version of Unix. Never mind that these were the biggest companies in the industry and Sun was a relative upstart. McNealy publicly mocked OSF and its members, roaring that the initials really stood for "Oppose Sun Forever."
At Sun's Mountain View (Calif.) headquarters, he was building a corporate culture based on his own motto: "Kick butt and have fun." The company has become equally famous for its aggressive marketing and the juvenile antics staged around its headquarters. Each April Fools' Day, scores of photographers now arrive to record the elaborate pranks Sun engineers play on McNealy and other execs. Once, the company's engineers built a golf course hole in McNealy's office, complete with green and water hazard.
McNealy likes to join in the high jinks, too. He has played general at an intramural squirt-gun war. Last May, at a conference in San Francisco, McNealy spent a half-hour earnestly laying out Sun's vision for 4,000 computer buyers and programmers. Then he set out several cardboard fire hydrants bearing the names of rivals and introduced Network, a Greater Swiss Mountain dog that stars in Sun's ad campaign. Sure enough, McNealy led the dog to the hydrants and exhorted him to raise a leg. Network, evidently more tactful than his master, declined.
The humor, which is turned on everybody, including McNealy himself, has an important effect: It binds the company and helps employees live with their demanding jobs. "His humor and ability to raise a crowd to its feet is in many respects exactly what you need in CEOs and leaders of today's industry," says Thomas J. Meredith, a former Sun treasurer and now vice-president for finance at Dell Computer Corp. McNealy's special gift, says former sales vice-president Carol A. Bartz, now CEO of Autodesk Inc., is to energize his people. "Energy comes right out of his pores," she says.
Newt Booster. These days, McNealy tries to channel some of that energy to his new family. In addition to Susan and Maverick, the family now includes Network, McNealy's own Greater Swiss Mountain puppy. Although his compensation hit $3 million last year and the 2.9% of Sun shares he owns is worth over $200 million, McNealy remains firmly planted in the three-bedroom house he bought in the hills north of the Valley in 1986, although he owns a condo in Palm Springs. He still likes nothing better than playing hockey and is on two league teams so he can always find a game. Whether it's on the ice or the links, McNealy is determined to win. "It's just not in my nature not to be competitive," he concedes.
For socializing, he likes to barbecue and sit around with friends, drinking domestic beer and watching a hockey game on TV. Says Dick Boyce, a Stanford mate and PepsiCo Inc.'s chief financial officer: "He would be happy to be described as Joe Six-Pack working hard to get the job done."
His politics, however, are anything but mainstream. He's a libertarian, who has been known to rail against all forms of government regulation and the welfare state, and he's a big fan of Newt Gingrich. That's unusual in Silicon Valley, where top executives turned out for Bill Clinton, but it doesn't stop the affable McNealy from mixing with other Valley notables. Lately, in fact, he has been spending time with Steve Jobs--Laurene Jobs and Susan McNealy met at an engagement party for McNealy given by Ellison. Now, the two families--both have infants--get together occasionally for dinner.
Almost nothing, however, takes McNealy away from Sun for long. "There was full disclosure" about that before the wedding," he says. "I'll never know my kids as well as most people," he adds wistfully. "But I've also got 15,000 people and $7 billion worth of market value counting on me."
Sun is not a one-man show. "One thing Scott has done is he has supplemented his leadership with some wonderful people," says Ellison. "You don't find Scott surrounded by dummies. You find Scott surrounded by real smart people, like Bill Joy and Eric Schmidt [chief technology officer] and others who do wonderful work." Those others include Edward J. Zander, president of Sun's hardware unit and the key marketing executive, and Raduchel, who as chief information officer is responsible for getting the company to run on its own machines.
To make the growing organization more nimble, in 1991, McNealy split Sun into seven "planets"--for hardware, software, service, etc. The setup got off to a rocky start because of turf battles among executives. Finally, in the summer of 1993, the CEO issued an ultimatum, says Schmidt: "Sign up, or get the hell out." Now, McNealy says his managers still aren't getting along as well as they should, but at least they're no longer fighting over who sells what.
Concerned about his effectiveness, McNealy recently hired a "CEO coach," Chuck Raben of Delta Consulting Group Inc. Raben polled Sun managers on where the boss could improve. The consensus: McNealy, who admits he has an opinion on everything, needs to listen better. Raben gave McNealy a cheat sheet, reminding him, for instance, to make sure he has covered all the points raised in meetings with managers.
Still, Sun's execs don't want McNealy to change too much. "Management is always contentious at Sun," says Raduchel. "Conflict-free management is always a disaster."
A Post-Wintel Era? And nobody wants McNealy to abandon his strong opinions. After all, the Java technology that has made Sun the darling of the Web exists today in large part because of McNealy's stubborn belief in it. In late 1990, McNealy asked a departing engineer, Patrick Naughton, to take a last moment and write a memo on how Sun could improve. Naughton suggested creating a software system for portable devices--and McNealy persuaded him to stay and do it.
McNealy gave the project, code-named Green, total independence and served as its cheerleader. Once, with the team burning out, he dropped in for a demo. It was a shaky prototype, but the boss turned morale around when he exclaimed: "This is the greatest thing I've ever seen," Naughton recalls.
Eventually, Green dead-ended with projects for interactive-TV set-top boxes and personal digital assistants. But even as Green wound down, says Naughton, now vice-president for technology at multimedia startup Starwave Corp., "Scott salvaged a lot of things" --one of them Java. Says pal Steve Jobs: "When he believes in a strategy, he will stick with it through thick and thin."
An example of that is McNealy's determination to continue to do it all--chips, software, hardware, the works. That has been increasingly risky as off-the-shelf commodity technology has swept the market. But McNealy is convinced that the Net--and Java, in particular--will alter the dynamics of the business. "Applets" written in the Java language can be zapped across the Net to run on any device that has a Java "virtual machine"--a tiny bit of code that mimics a computer. If Java catches on big, the software lock-in of the Microsoft Windows/Intel (Wintel) design will end, McNealy says. Then, computer and software companies will once again be able to differentiate their products. Indeed, they'll have to. "If you're going to make automobiles, you have to make your own engine," he says.
Before that post-Wintel era arrives, McNealy has plenty of other battles. HP, IBM, DEC, and Silicon Graphics are all gunning for Sun's core computer business. HP claims to have stolen workstation business from 35 Sun customers since 1993 by offering what Sun concedes is superior service and support of big customers. "They're losing in workstations, playing catch-up in servers, and have lost their lead in the overall Unix market," says HP Senior Vice-President Willem P. Roelandts. Some customers worry that Sun has too much on its plate to focus on service deficiencies. "They're grabbing at everything," says Stephen W. Butt, a manager at a Lockheed Martin Corp. unit that switched to HP workstations.
Sun has beefed up its $885 million service and support unit, and upped the head count 50%, to 3,000 since 1994. McNealy, who calls on customers whenever he can, keeps close tabs. At Schwab, for instance, he checks in every six weeks or so. "Scott has followed up religiously," says CIO Dawn Lepore.
It's worth the effort. Commercial computing accounts such as Dunlop Tire Corp., which used Sun servers to replace mainframes, now make up a third of Sun's revenues. And the servers they buy help the bottom line: While growth in the workstation market has slowed and margins have contracted, the higher profits from servers have helped Sun boost its corporate gross profit margin to 44% for the first quarter, ended Sept. 30, from 41% in fiscal 1994.
By the end of 1996, Sun may find it more difficult to get such profits from hardware. That's because of Intel's next-generation Pentium Pro chip. PCs that use it will rival workstations in power. Worse, Intel has a four-chip "motherboard" that will let companies such as Compaq Computer Corp. crank out servers costing a quarter as much as Sun's midrange machines. "Intel servers will be the dominant servers on the Internet," predicts PaineWebber Inc. analyst Stephen K. Smith.
McNealy's answer, again, is Java. Once the new software succeeds in undoing the Wintel lock, customers will see how outstanding Sun hardware and software are, he argues. "Java opens up a whole new world for Sun," he says.
This view of the future is not a universal one. Despite all the excitement, Java is unlikely to transform computing overnight. First, there are security issues raised by a system of distributing software on the Net. And for now, the Java programs run slowly. "Java is still radically immature," says independent software consultant Mark Pesce.
This bothers McNealy not a bit. "I want Sun to be controversial," he says. "If everybody believes in your strategy, you have zero chance of profit.'' McNealy does fret that with so much on his plate, he'll be blinded to the next big thing: "We're so frantic with everything going on right now that we're missing something." This season, though, there's little danger of a solar eclipse.
---
Jack Of All Trades, Master Of The Universe?
Sun's network computing is finally coming true, and now everybody is doing all 
the things Sun does

PRODUCT       REVENUE       STATUS
WORKSTATIONS   $2.7B       Sun has lost ground to Hewlett-
                            Packard but is coming back
                            with new UltraSPARC machines

SERVERS        $1.3B       This is Sun's way into corporate
                            computing and its biggest
                            Internet-related business so far

SERVICES       $885M       Unix and networking-consulting
                            opportunities are growing, but so
                            is the competition

SOFTWARE       $395M       Sun's Unix operating system
                            is the most popular, but it hasn't
                            sold well on non-Sun hardware

SPARC          $99M        Sun's SPARC chips are now back on
TECHNOLOGY                  the leading edge, but Intel's Pentium
                            Pro is a potential low-cost threat


PRODUCT              COMPETITORS

WORKSTATIONS       HP, IBM, Silicon
                    Graphics, Digital
                    Equipment

SERVERS            HP, IBM, Silicon
                    Graphics, Compaq,
                    Digital Equipment

SERVICES           EDS, IBM, Oracle

SOFTWARE           Microsoft, IBM

SPARC TECHNOLOGY   IBM, Digital
                    Equipment
---
Now, Sun Has To Keep Java Perking
By Robert D. Hof in Mountain View, Calif., and John Verity in New York
How hot is Java? Even before the official Jan. 12 release of Sun's bold new network software, 14 big-name companies, from Microsoft and Netscape Communications to IBM and Toshiba, have already agreed to license it for at least $125,000 a pop. As a result, Sun is years ahead of its original (admittedly modest) business plan--and scrambling to forge a new one. That's why on Jan. 9, Sun hired Alan E. Baratz to run JavaSoft. Says the former chief executive of Delphi Internet Services Corp.: "I probably won't be sleeping in the next couple months."
Baratz, once a top networking strategist at IBM, will have to be alert to keep Sun ahead of its own creation. A new computer language, Java lets programmers write tiny applications that can zip across the World Wide Web and bypass Microsoft's Windows when they arrive. Already, programmers have used Java to create some 600 "applets" for everything from animation to transmitting electronic "ticker tape." And because Java will be built into the next release of Netscape's Web browser, millions of personal computer owners will be sipping the cyberbrew this year.
"The New Intel." What's in it for Sun? Lots--but licensing revenue may be the least of it. Java will pay off, says Chief Technology Officer Eric E. Schmidt, if all it does is stimulate demand for Sun's network hardware, software, and service.
Still, Java offers potentially huge revenue opportunities that Sun--facing more competition than ever on the hardware front--can't afford to pass up. Besides licensing fees, Sun's main source of Java revenue this year will be from software tools to help developers create Java programs. In March, Sun will release Workshop for Java, a $100 package it expects will appeal to more than 300,000 Windows programmers.
Beyond 1996, the plans get murky. For one, Sun is thinking of offering its own Java applets, including an Internet variation on Notes, Lotus Development Corp.'s groupware. But even if it convinces software partners that it's not stealing their business, Sun couldn't charge Microsoft-like prices because individual applets have far fewer functions than full traditional programs.
The biggest jolt would be a Java-based operating system that could replace Windows completely. Sun already has a prototype that could be ready by 1997, but company officials won't say whether they plan to market it. If they do, free or inexpensive distribution over the Internet could make it a standard almost immediately. Says Gartner Group analyst Hubert C. Delaney: "Java doesn't have to make money for Sun, just help them break Microsoft's business model."
Sun isn't limiting its plans to computers. Schmidt envisions embedding the software that runs Java applets in everything from printers to wireless phones, giving them more computerlike adaptability. Sun may even design a microprocessor chip tuned to run Java applets at lightning speed. Says Schmidt: "This is a path to where Java could be the new Intel."
New Intel? New Microsoft? Whew. Nothing would make Sun Chief Executive Scott G. McNealy happier, but he'll be satisfied, he says, if Java simply gives Intel and Microsoft some competition--opening the market for Sun. That prospect alone has investors psyched: The day Microsoft endorsed Java, Sun's market value jumped $336 million. "The halo effect is stunning," says McNealy. Anything more will be cream in his coffee.
---
Copyright 1996, by The McGraw-Hill Companies Inc. All rights reserved.