Sun Power
Is the center of the computing universe shifting?
By Robert D. Hof in Cupertino, Calif. With Steve Hamm in San Mateo, Calif., and Ira Sager in New York.
Business Week
January 18, 1999
Every four to six months for the past four years, Chief Executive Scott G. McNealy of Sun Microsystems Inc. has faithfully made a pilgrimage to the Dulles (Va.) offices of America Online Inc. His quest: get AOL to buy more Sun server computers to help run its world-leading online service. Each time, AOL CEO Stephen M. Case turned thumbs down, sticking with machines from the likes of Hewlett-Packard Co. and Silicon Graphics Inc. But McNealy's persistence finally paid off in late November, when Case wanted to buy Netscape Communications Corp.'s popular portal Web site, and he needed Sun's help in handling the Internet pioneer's electronic-commerce software business.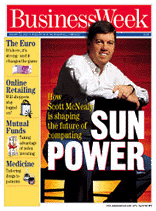 McNealy, known for his stubborn negotiating style, pounced on the opening. But before any agreement would be inked, he wanted AOL to back Java, Sun's software that is fast emerging as an alternative to archrival Microsoft Corp.'s Windows. After nine days of intense haggling, McNealy had gotten more than he ever dreamed of: not only a huge boost for Java but also a chance to sell Netscape's widely used E-commerce software--and finally an AOL promise to buy at least $500 million in Sun servers over the next three years. Crows McNealy: "People know that if Sun can handle AOL's traffic, we can handle anything. It's a real groundbreaker for us."
Brash Boss. Suddenly, the maker of whizzy engineering workstations and the faceless backroom computers behind the Internet and corporate networks is the toast of techdom--and beyond. Whether it's the AOL deal, Java's snowballing popularity, Sun's leading role in the Microsoft case, or simply outpacing nearly all its rivals, Sun has finally reached the top tier of the computer industry. Today, more of the computing, communications, and even consumer-electronics worlds are starting to orbit around Sun's vision of how information will be handled in the Internet Age--and those that aren't are scrambling to keep from getting sucked in. Says Merrill Lynch & Co. analyst Steven M. Milunovich: "If you want to know where the computer industry is going, ask Sun."
The brash, 44-year-old McNealy is only too happy to explain it. Death to today's style of computing, he says, where people run individual programs on desktop PCs using Microsoft's Windows. Instead, McNealy envisions a computing world that is more communal. He favors shoving all of today's desktop complexity into air-conditioned rooms full of powerful, networked servers. These big computers then dish up information to cheap information appliances that are almost as easy to use as making a phone call. And by using Java--which allows not just data but programs to be sent easily over networks--mere mortals will get access to an exploding array of Internet services without the need for massive installations or updates of bulky software. "Microsoft's vision was to put a mainframe on everybody's desktop," says McNealy. "We want to provide dial tone for the Internet. We couldn't have more different visions."
That has made Sun the prime foil to Microsoft's growing hegemony in computers. More than any other industry battle, the clash between Sun and Microsoft underscores the mind-bending shifts brought on by the Internet as it forces companies to rethink every aspect of their businesses--and which technologies to adopt. As the Internet becomes more central to how every company does business, Sun hopes to lead an overthrow of the personal computer. "The PC is just a blip. It's a big, bright blip, but just a blip," says McNealy. "Fifty years from now, people are going to look back and say: 'Did you really have a computer on your desk? How weird.'"
Surprisingly, it was just a few years ago--back when Java was a fancy cup of coffee and Sun was that hot yellow ball in the sky--that many thought McNealy held the weird view. No more. Today, Sun's star has never been higher, and McNealy's vision of computing never closer to happening. Thanks to the Internet, Sun's Java software is gathering steam. Because Java can serve as the lingua franca for Internet programs that will run on any type of device, it is becoming a staple with 900,000 software developers, who have created thousands of Java programs that do everything from providing Web surfers with the latest stock quotes to mining vast corporate databases for sales information. "We know how to '.com' the world," says Chief Operating Officer Edward J. Zander.
Fresh Oomph. Now, Sun's powerful servers, which scoop up and dispatch information over far-flung networks, are in hot demand from the likes of Colgate-Palmolive, Hershey Foods, GTE, and American Express--none of which bought Sun gear before. That has put Sun's server sales on a pace to rise 30% in 1998, compared with an 18% gain for servers made by HP and a 10% increase for those from IBM, according to estimates by market researcher International Data Corp. (IDC). And even though the Asian flu knocked HP's and IBM's profits down this year and kept their sales growth under 10%, Sun's profits in the quarter ended Sept. 30 soared 21%, to $198 million, while sales jumped 19%, to $2.5 billion. Sun's just ended quarter could be a slight disappointment, though, because the company cut over from a mainframe-based financial system to all-Sun gear, potentially delaying shipment of some orders, analysts say. But demand remains strong--and so does Sun's stock, which more than doubled in 1998, to $85.
And experts are betting that the AOL deal will boost Sun's fortunes even more. By hawking Netscape's E-commerce software along with Sun computers, Sun can attract customers that want a more complete package. And the AOL-Netscape portal adds another powerful dimension, allowing Sun to offer buyers a place for their own online services. The troika also plans to develop Net appliances, most likely using Java and not requiring software from Microsoft. Says AOL's Case: "Sun enables us to make the promise of E-commerce a reality."
Indeed, Java is the fuel behind much of Sun's growing influence. Today, the software is rocketing the $9.8 billion company well past the limits of the traditional computer market. Java is rapidly drawing support from makers of consumer devices such as wireless phones, video game consoles, and smart cards. Cable giant Tele-Communications Inc., for instance, plans to use Java to deliver phone service, bill-paying, and other services via some 20 million TV set-top boxes due to start shipping midyear. Meanwhile, Windows CE, a consumer version of Microsoft's operating software, will be on only 5 million of those 20 million set-tops, according to TCI.
Poppycock. The biggest surprise of all: Sun's McNealy, a Stanford University MBA with nary a technology root, has outmaneuvered--at least for the moment--Microsoft Chairman Bill Gates. While Sun built network smarts into its computers from the start, Gates missed the significance of the Internet at first--forcing a mad scramble to catch up. Then, when Sun released Java in mid-1995 as a programming language that could spice up Web sites, Microsoft publicly dismissed Java's wider potential even as its popularity skyrocketed.
Against all odds, Sun even won the first round in November of its lawsuit charging Microsoft with illegally changing Java so that resulting programs run only on Windows. That lifted a big cloud that had been hanging over Sun for the past year. Says Bruce Graham, chief information officer at food-service company AmeriServe Food Distribution Inc., which is rolling out 25,000 Sun JavaStation network computers to restaurant customers such as Taco Bell Corp.: ''They've evolved into the leader of the other camp.''
Of course, the other camp, with Microsoft, Intel Corp., and the PC makers, is nothing less than an empire--one bent on keeping its commanding position. They think the notion that PCs will become passe is sheer poppycock and that plummeting computer prices will ensure their popularity. Microsoft, alone, has become much more Net-savvy and is turning its fearsome troops to dominating Internet software and services.
Others are rising to the Internet challenge, too. HP, for instance, recently won big contracts to supply servers to UUNET and PSINet Inc., leading providers of Internet service. Boasting an unmatched 120,000-person high-tech services force, compared with 7,000 at Sun, IBM has won big E-commerce deals to build the online stores for Macy's, Borders, CD Warehouse, and dozens of others worldwide. Says Neil Isford, IBM's vice-president for electronic commerce: "We're hearing customers ask, 'Can you do the whole thing for me?'"
Worse for Sun, the PC camp can claim fresh victories in Sun's core business: While unit sales of Sun's workstations are climbing, its workstation revenues are expected to fall 2% this year, because of the low-cost Windows NT machines churned out by Compaq, Dell, and others. And Sun's operating software is under a bruising assault: IDC estimates Microsoft will have shipped 1.6 million copies of its Windows NT Server software in 1998, vs. 167,000 for Sun's rival Solaris, the leading Unix software. "Sun is vulnerable," says John T. Rose, general manager of Compaq Computer's Enterprise Computing Group. "The world is going to be a mixture of NT and Unix."
Indeed, with such price pressure on Sun, it's unclear how long the company can continue to design all its own chips, hardware, and software--and still compete with PC makers that let Microsoft and Intel do almost all their research and development for them. Sun spends 10.4% of its sales on R&D, compared with 4.5% at Compaq and 1.6% at Dell. "We scale our R&D across a vast industry," says Jeff Clarke, general manager of Dell Computer's workstation division. "Sun tries to do it all themselves."
Sun's response: It has faced the same challenges for much of the past decade, yet it keeps confounding its critics. Until recently, few people thought Sun would even be around in the Internet Economy, let alone emerge as a leader. Almost since its 1982 start as a maker of workstations for engineers, Sun has been the perennial outsider. After sitting out the PC Revolution, it's now the last major computer maker still refusing to sell machines that use Microsoft programs or Intel's Pentium chips. And Sun puzzled people with its motto: "The network is the computer." The phrase sums up the stubborn belief that vast networks of connected devices powered by big servers would someday subsume the mighty PC. All that, in the face of the incredible rise of Intel and Microsoft, prompted continual doubts about Sun's strategy, vision, and viability.
The mouthy McNealy, who cuts a boyish figure in jeans and polo shirt, did little to change people's impressions. Playing Don Quixote tilting at the Win-mill, he has slammed rivals' efforts as "big hat, no cattle," deriding Windows as "frosting on a road apple." He even banned Microsoft's ubiquitous software programs from Sun's premises--and brags how much Sun's stock has risen since then. "There have been times when Sun seemed way out of sync," says analyst Laura Conigliaro of Goldman, Sachs & Co. "Yet two years or three years later, we see the rest of the industry moving in their direction."
They had better hurry. Just as the rest of the industry is accepting the notion that "the network is the computer," McNealy is launching Sun on a far broader mission--one sure to spark just as much controversy. He aims to make Sun the prime provider of the Internet equivalent of dial tone.
"A Utility." When you pick up the phone, it simply works--you don't have to boot it up. It's obvious how to use it, and it rarely "crashes." That's the level of service and functionality that Sun eventually sees Internet services such as E-mail, Web access, and the like evolving to. And just as Lucent Technologies Inc. provides all the gear needed for telecom companies to run the phone system, Sun wants to offer all the hardware and software needed to build out what he calls Internet "Webtone." Says McNealy: "Information becomes a utility rather than people having a mainframe on their desk."
McNealy's Webtone vision goes beyond just helping companies put up Web sites, which it has been doing for years. It even extends beyond the next step--connecting Web sites to inventory and manufacturing systems, customers, and suppliers. McNealy and his brain trust think the Internet is rapidly changing not just the way people communicate and get information but also how entire industries are set up. The Net, he believes, is spawning a new class of companies providing services that will replace the way companies use computers and the Internet today.
AOL and Web portals such as Yahoo! Inc., for instance, are offering E-mail and computerized calendars that once required software installed on a $2,000 PC. Now, they're available, sometimes for free, on a Web site with the click of a mouse--or even through a cellular phone, cable-TV set-top box, or Sun's $500 JavaStation, a stripped-down corporate desktop computer. And that's just the start. Already, this utility-like service is spreading rapidly. Customers are beginning to outsource basic computing tasks to Sun computer-powered service companies such as Digex to operate their Web-site backrooms and Exodus Communications Inc. to manage their exploding data centers.
Soon, even traditional business tasks that currently require installing multimillion-dollar software packages such as those sold by SAP and Oracle Corp. will be done through Net-based services instead. This month, BizTone.com, a Malaysian startup, will begin offering over the Net such Java-based services as general ledger, sales order entry, and inventory tracking--things that currently must be installed on company computers. And Oracle will start offering its database software as an online service this month.
Think utilities. Customers pay for services as they use them--much as they now pay for phone service. McNealy is banking that such a level of service requires the reliability and performance of powerful servers like Sun's--which, by most accounts, Wintel servers can't yet match. Convergys, for instance, which provides telecom-billing service, opted for Sun's servers to process some 13 million phone records daily. Says James P. Holtman, a Convergys vice-president: "Sun can scale to meet the smallest and the largest customers."
McNealy hopes Sun's products also can help make computing easier for the unwired masses of consumers. He's rushing to forge alliances with consumer-electronics companies such as Sony Corp., which want to use Java to offer more capable game players and TVs. Ultimately, McNealy aims to provide the means to network not just a couple of hundred million PCs but also the billions of computer chips in everything from refrigerators and telephones to smart cards and high-tech door locks.
All of this adds up to potentially huge markets for Sun that didn't exist a few years ago. Indeed, says Merrill's Milunovich, "Internet computing is becoming the mainstream of all computing." And McNealy aims to be the arms supplier to every side of this new battlefield, pushing Sun past $10 billion in annual sales--to $20 billion in the next five years. Says COO Zander: "We want to be the lumberyard for the networked age."
To get there, McNealy is betting much of Sun's future on software. When he details his vision of computing on a whiteboard, almost everything he scrawls is a software standard, software to write other software, or a software application. That's why Sun isn't stopping at Java. On Jan. 25, it will launch a new software technology called Jini--a variant on the Arabic word from which ''genie'' is derived. It's a set of software tools intended to cut through the nightmare of installing new devices on a network. "Jini is really about achieving simplicity, so computers can be used by more people," says Mike Clary, Jini's general manager (page 72).
Heavy Shelling. Big plans. Big enough to counter the world's biggest software company? Not if Microsoft can help it. Microsoft, in addition to its 23 years of experience in software, can offer one big advantage over Sun's software melange: an all-Windows network that's less complex to run. That's how it has persuaded every other computer maker to sell Windows NT machines even if they also sell Unix computers. "Everybody else has put together a Windows NT-and-Unix strategy," says Sam Jadallah, a Microsoft vice-president, who likens Sun's Unix-only stance to Henry Ford's single-color choice for the Model T. "Sun says they'll sell you anything you want as long as it's black."
Microsoft continues to aim its guns at Java. Even though Microsoft has lost a preliminary ruling in Sun's lawsuit, it has persuaded hundreds of thousands of software developers to use its version of Java. Says Ken Morse, chief technology officer for consumer-software tools maker PowerTV Inc.: "If the standard gets fragmented, then Java fails."
Sun has only itself to blame for at least some of Microsoft's inroads into Java. It has often fallen short of its own grandiose promises, releasing some crucial new Java technologies late and changing others too fast for customers to deal with. It also has angered partners by keeping too firm a grip on Java's development--prompting HP, for instance, to team up with Microsoft on developing a version of Java for consumer devices. Even IBM, Sun's staunchest Java ally, wants Sun to release Java to public-standards bodies. Says Patricia Sueltz, general manager for IBM's Java software: "Java is bigger than any one company." Sun has tacitly agreed: It recently eased Java licensing requirements.
For all the challenges in software, this fat-margin business could prove to be crucial to Sun's way of doing business. McNealy, the son of a former American Motors Corp. vice-chairman, has always insisted that Sun, like a car company, must keep building the basic engine of computers--chips and software--or face losing control of its destiny. But doing so is becoming increasingly expensive.
Thanks to the technology lead that allows Sun to sell more lucrative machines, the company's gross profit margin remained steady at 51% in the September quarter--about double the level of Compaq's, for example. Analysts say that Sun should be able to maintain those high margins at least for the next couple of years. And after that, even higher-margin revenue from Java license fees--$130 million last year--and other software may provide the several hundred million dollars a year to pay for its own chip and software designs. As a result, says Eric E. Schmidt, CEO of Novell Inc., "the cliff in front of the company continues to recede."
Whether all that will prove enough to fulfill McNealy's vision remains nearly as much in doubt as it ever has been. McNealy admits that someday, as more companies outsource their computing to service providers, fewer corporations may buy computers from Sun. That means Sun has to keep redefining itself to survive in the new world it's rushing to help create. "Sun appears to have nine lives," says Charles Fitzgerald, a Microsoft group product manager. "I'm not sure what life they're on now, though."
Most of all, it's uncertain how Sun can continue offering a stark alternative to conventional wisdom--and at the same time serve as a leader for the industry. To reconcile that apparent contradiction, McNealy will have to cooperate much more with others in the industry. Despite recent deals such as the AOL-Netscape pact, that's something that McNealy's often rabid anti-Microsoft stance works against. Says analyst C.B. Lee of Sutro & Co. and a former Sun manager: "McNealy shoots off his mouth too much. At some point, you've gotta be more mature." Even Sun's executives concede it needs to play a more statesmanlike role in the industry. Says Zander: "We now have to live up to a higher expectation."
Can McNealy ultimately transform Sun from iconoclast to Internet icon? Even though he has two young boys and another baby on the way, McNealy shows little sign of mellowing his strident style. On a recent day, he bounded into Zander's office and hung on the door a Bill Gates doll--neck in a noose--that a fan had sent him. Still, McNealy notes defiantly, none of this attitude has hurt Sun where it counts. "It certainly didn't stop us from doing a deal with AOL--even though they're a partner with Microsoft," he says. For now, at least, it's hard to argue with him.
---

---
Sun's Expanding Universe
More than a decade ago, Sun coined the phrase ''The network is the computer.'' At last, it's coming true. And Sun is harnessing the Internet to put computing power at people's fingertips in a host of new ways.
SERVERS
Powerful backroom computers serve up programs and services to desktop computers and other devices. Sun reaps its financial rewards from Internet computing by selling both the computers and high-priced specialized software for running Web sites and managing E-commerce. Sun's server sales jumped 30% last year.
JAVA
Sun's software for writing programs that can run on any device connected to a network is the grease for a simpler style of computing and Internet services. To hasten Java's acceptance, Sun charges only minimal licensing fees, thus attracting 900,000 software developers. Java's momentum hasn't caught on for creating desktop applications, but many corporations are using it for major data-gathering and storage applications.
JINI
Sun's new technology is designed to make it easier for people to connect computers to a network and use other devices on it--such as printers, copiers, and fax machines. Quantum will use it in new disk drives.
DESKTOP COMPUTERS
In Sun's universe, these mainframes-on-a-desktop will fade in importance, necessary only for engineers and finance types who need big horsepower at their fingertips. So far, though, PCs seem to be thriving, with sales growth topping 13% last year to hit 100 million units.
NETWORK COMPUTERS
Stripped-down desktop computers from Sun and other suppliers run programs on the server or download them as needed. Such NCs are off to a slow start--with only about 500,000 sold in 1998--and Sun's not leading the pack.
TVS AND CABLE SET-TOP BOXES
The Net provides a conduit for new types of computer- and communications-driven services, such as video on demand and home banking. About 1.4 million Internet-connected TVs were sold last year, and that number is forecast to swell to 11 million by 2000. This year, cable giant Tele-Communications plans to start distributing 20 million Java-equipped set-top boxes.
SCREENPHONES
Simple devices for straightforward services such as grocery ordering. France's Alcatel is using Java to deliver Internet services such as E-mail and Web access to its Internet Screenphone that's available in Europe.
CELLULAR PHONES AND PAGERS
Wireless devices untether access to Net services such as airline delay alerts and stock quotes. Sales of digital cell phones topped 13 million last year--so there's plenty of demand. Ericsson plans to use Java programs to offer new services through its cellular phones.
SMART CARDS
Visa and others want to program Net services such as airline ticket purchases into smart cards. Standard Chartered Bank in Singapore issued the first Visa Java smart card last June, and smart-card makers Gemplus and NEC also will offer Java smart cards this year. Some 22 million smart cards were sold in 1998. By 2002, sales may mushroom to 1.6 billion.
CARS
Net connections can make navigation and diagnostic systems smarter and updatable. Delphi Automotive Systems, the electronics supplier owned by General Motors, plans to offer a Java-based system that would give cars voice-activated E-mail and navigation capabilities this year.
KEYS
Java-powered rings and pass cards could serve as high-tech keys to hotel rooms or corporate networks. Dallas Semiconductor has sold 50,000 copies of its Java-based ibutton, an electronic component for these keys.
DATA: SUN MICROSYSTEMS INC., INTERNATIONAL DATA CORP., DATAQUEST INC., BUSINESS WEEK
---
'Microsoft Ought to Be Scared to Death'
By Robert D. Hof in Cupertino, Calif.
Business Week
When's the last time you booted up your telephone? Added a disk drive to your car stereo? Installed a new program on your pager? Dumb questions, right? Those devices don't require the rigmarole that personal-computer owners contend with regularly. They just work.
That simplicity is what Bill Joy, Sun Microsystems Inc.'s chief technology officer, wants to bring to computers and the Net. When he unveils new Sun software called Jini (pronounced ''genie'') on Jan. 25, Joy aims to usher in a new era in which people can tap into a computer network's vast services as simply as they call Mom on the phone. PC technology is way too complex, says Joy: "We've been fishing around for a system that puts itself together."
How might Jini work? It's a set of software tools that uses Sun's Java to give each device its own smarts. Once plugged into a network, these devices each have an address, and they broadcast what sort of capabilities they can provide. A disk drive, for instance, might let other devices know it has 10 megabytes of storage available for use. In that case, you could store a video clip from the Net in that space.
Suddenly, computing becomes a service, like a dial tone, available from almost anywhere. Walk into a customer's conference room and plug your Jini-outfitted PalmPilot into the network jack. Presto! You've got a virtual office. You could send a memo to a company printer or borrow a company server computer to speed up a spreadsheet calculation.
Potentially, this creates a huge new opportunity for Sun. Jini networks would require boatloads of Sun's servers to run on. Sun even hopes Jini could block Microsoft Corp.'s attempts to move PC technology into consumer devices. "This is the hottest idea in a long time," says Marc Hansen, vice-president for architecture for Sun customer J. Crew Group Inc., which sees Jini as a way to get computers to talk to one another more easily. "Microsoft ought to be scared to death."
The software giant already is firing back. On Jan. 7, it introduced a related set of technologies at the Consumer Electronics Show in Las Vegas but has not yet set a delivery date. Microsoft says its Universal Plug and Play technology uses more industry standards and avoids Jini's potentially cumbersome approach of sending software over networks. Says Charles Fitzgerald, a Microsoft group product manager: "In the real world, with all this complexity, this isn't going to be easy."
"A Toy." That's not the only obstacle. Sun's plan assumes every device has the necessary Java software or ready access to it. But current Java-powered devices require more memory than most consumer devices can afford. Moreover, the early release of Jini has limits on how many devices can work on a network, says Gartner Group Inc. analyst David Smith. While Jini is promising, he says, "at this point in time, it's a toy." Finally, Jini is effective only if it's ubiquitous in a vast range of devices or they won't be able to communicate.
To answer that concern, Sun is expected on Jan. 25 to add a raft of new Jini licensees to the 30 computer, software, and consumer-electronics companies supporting Jini so far. Quantum Corp., for example, plans to offer Jini disk drives later this year. Says Quantum chief architect Paul Borrill: "There is a potential for Jini to be at least as big as Java." Joy dreams of Jini.
---
Copyright 1999, by The McGraw-Hill Companies Inc. All rights reserved.