Windows Refund Day
Monday, February 15, 1999
All the Linux User Groups in the Bay Area participated in this event. It was coordinated by the CABAL (Consortium of All Bay Area Linux) [ http://hugin.imat.com/cabal/ ].

Linux and FreeBSD users from around the Bay Area marched on Microsoft's Bay Area sales office in Foster City to ask for refunds for their unused Windows operating systems [ http://hugin.imat.com/refund/ ]. The Windows user license says that if you don't agree with the terms, you may return it to the vendor for a refund. After all the vendors had been tried persistently and all said to go to Microsoft, we did. Microsoft refused to give a refund too. We think a point has been made about a monopoly able to break the literal wording of the agreement it imposes upon all purchasers of PC hardware, whether they want to buy any Microsoft software or not.
Reports by SVLUG Members
A Few of the Media Reports
John Beale (see below)
Marc Merlin [ http://marc.merlins.org/linux/refundday/ ]

(Send reports to webmaster@svlug.org.)

Slashdot

Refund Day [ http://slashdot.org/articles/99/02/15/099202.shtml ], rumors prior to the event
Windows Refund Day #2 [ http://slashdot.org/articles/99/02/15/1247224.shtml ], reports of BBC and USA Today coverage on the protest day
Windows Refund Day update [ http://slashdot.org/articles/99/02/15/1646208.shtml ], posted via wireless from the protest
Windows Refund Wrapup [ http://slashdot.org/articles/99/02/16/0827245.shtml ], lists some follow-up news coverage

Linux Weekly News: "Linux in the News" [ http://lwn.net/1999/0218/press.phtml ]
"Programmers demand freedom from Microsoft operating system", San Jose Mercury News, front page of the Silicon Valley/Technology [ http://www.siliconballey.com/ ] section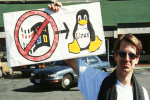 Report and photos by John Beale, SVLUG photographer
See the chronological list of John's photos [ http://www.svlug.org/events/refund/jpb/page1.html ] or read the narrative below.

I went to the SF Bay Area refund event on Feb. 15th, 1999 in Foster City, CA. This event was a fun one and I'm glad to have participated. There was a lot of press there, I think at least three TV crews plus many print journalists, maybe thirty or more. I took over 70 film pictures and over 100 digital stills, plus some video. I have put a four-page summary of the film pictures telling the story here [ http://www.svlug.org/events/refund/jpb/page1.html ]. Below, I have some thumbnail sheets from the DV camera, plus a few larger shots to give a flavor of the event. As far as the story goes, I'll let others tell it; but briefly, Microsoft set up a table with free lemonade and some soft drinks at the top of their parking structure. Also, a one-page statement to the "Linux Community" which is reprinted here [ http://marc.merlins.org/linux/refundday/dear-valued-customer.html ]. A Microsoft spokeperson gave some non-answers. Several attempts to enter the Microsoft office were met with a locked-out elevator and locked (exit-only) stairwell. I thought the impromptu press conference in the elevator was a nice touch (the elevator that went to every floor, except #9 where the Microsoft office was :-). -jpb 2/15/99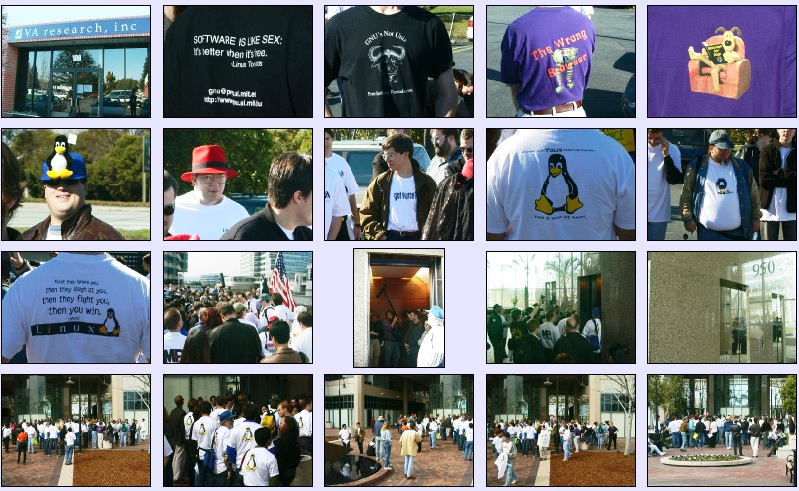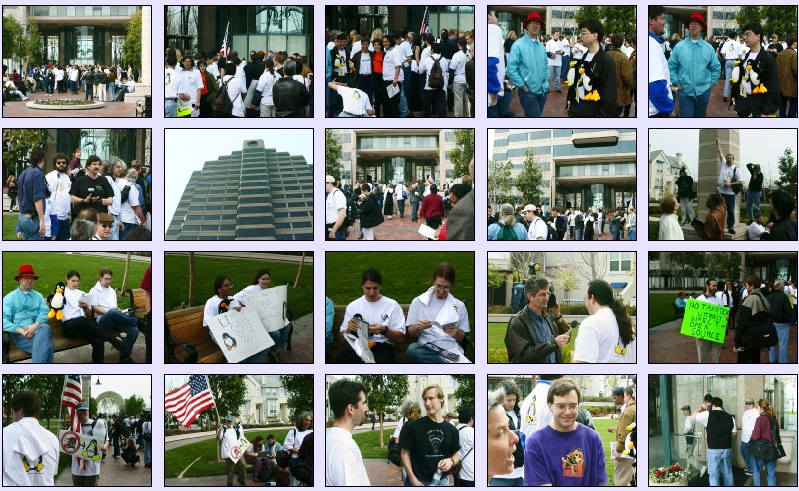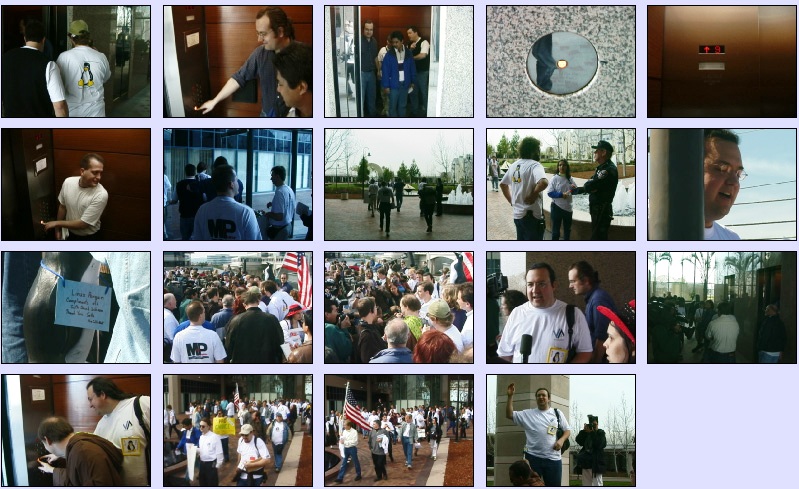 ---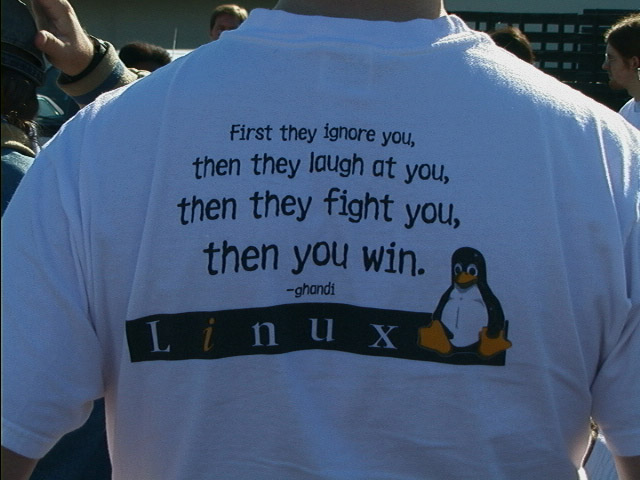 There were many different Linux (and FreeBSD. etc.) t-shirts in evidence, as well as the free "We didn't want your operating system... [Tux image] This is what we want!" shirts that VA Research handed out.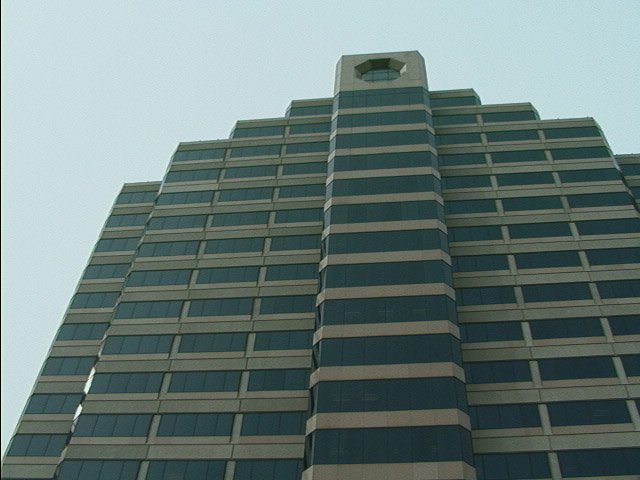 The office building in Foster City, containing the Microsoft office on the ninth floor.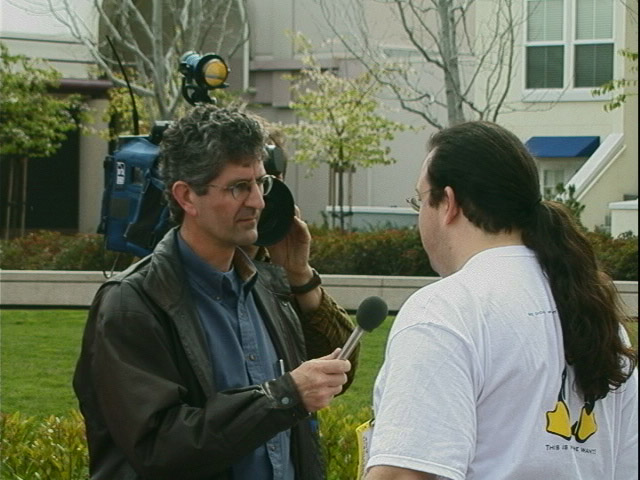 Chris gives an interview with one of the TV crews present.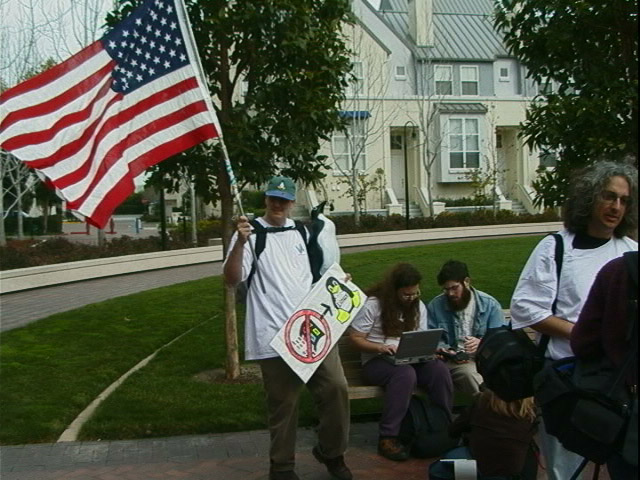 The flag added a nice touch to the 150+ person, 1/2 mile procession from our staging area to the MS building. Remember, free software is as American as apple pie!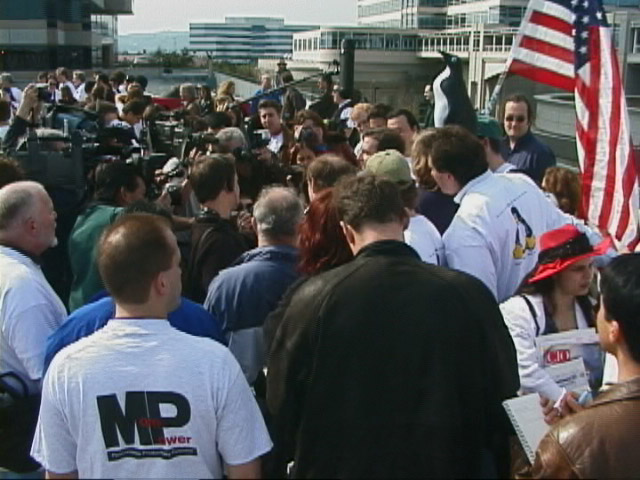 Several of the organizers gave a press conference on the top of the parking structure where signs indicated the "Linux event" was to take place. There were a lot of reporters there.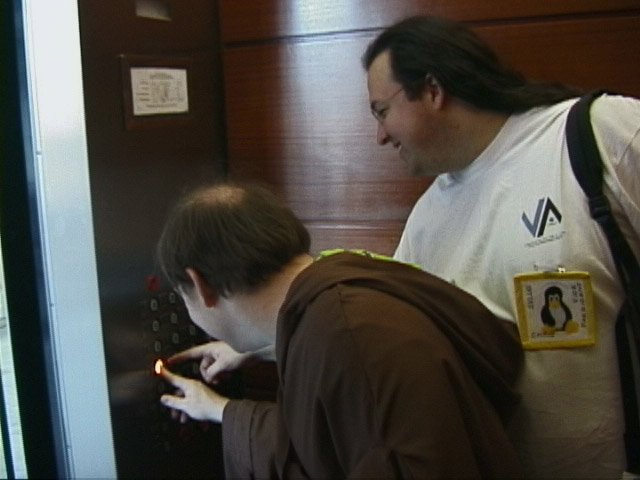 Eric Raymond and Chris DiBona press the elevator button for the 9th floor. (It was locked out.)
---
Photos by John Beale (beale@best.com)

Feedback to SVLUG Webmasters [ webmaster@svlug.org?subject=feedback%20from%20SVLUG%20website ].