Who is SALON?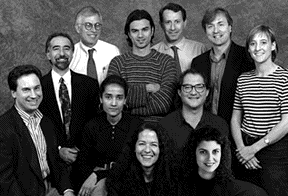 Back row, left to right: Scott Rosenberg, Andrew Ross, David Weir, Paul Vachier, David Zweig, David Talbot, Cynthia Joyce.
Center: Mignon Khargie, Laura Miller, Gary Kamiya, Joyce Millman.
Not in picture: Howard Rheingold and Dwight Garner.
---
David Talbot, Editor, was born under the HOLLYWOOD sign. His father, Lyle, was a founding member of the Screen Actors Guild, star of Warner Bros. melodramas (and Ed Wood classics) and a familiar face in '60s sitcoms like "Ozzie and Harriet." His mother, Paula, was a 20th Century Fox chorus girl and his brother, Steve, played Gilbert on "Leave It To Beaver," an early chapter in his career he would sooner forget now that he makes documentaries for PBS' esteemed Frontline series.
Talbot is the former arts and features editor of the San Francisco Examiner, a madcap news operation then presided over by maverick publisher Will Hearst. Talbot also edited the paper's Sunday magazine, Image, which critic Greil Marcus called "the most consistently high-quality, surprising, challenging arts and politics magazine the Bay Area has had in my memory." Prior to that, Talbot worked as a senior editor of Mother Jones magazine and co-authored Burning Desires: Sex in America and Creative Differences, a history of the Hollywood Left.
Talbot lives with his wife Camille Peri and their two young sons in the ramshackle Bernal Heights neighborhood of San Francisco (Robert De Niro's painter-father called it, with considerable artistic license, the "Montmartre of the West"), where middle-aged bohemians, Salvadoran immigrants, lesbian mothers, first-time homeowners and street gangsters all commingle at the local playground in the frantic union of parenthood.
---
David Zweig, Publisher, has spent his career careening between artistic and business pursuits. After a stint at Time Inc. in Manhattan, putting together integrated marketing deals, he moved to San Francisco in August 1994, sleeping at the Chinatown YMCA and a quirky boarding house on Embassy Row, until he found work at Ikonic Interactive, an interactive software company.
In 1987 he co-founded an award-winning community newspaper with backing from Dow Jones in Seacoast, New Hampshire, where he picked newspaper confetti out of subscribers' snowblowers late at night on his hands and knees, praying for the arrival of the digital age.
Zweig got his journalistic start at Yale, filing a page-one story in the New York Times, after which it was suggested he pursue a business career. He claims to have the highest bowling average of any Harvard M.B.A.
---
Mignon Khargie (Art Director), won more than two dozen Society of Newspaper Design awards for design and illustration while working for the San Francisco Examiner. Her work has also appeared in PRINT magazine.
Khargie, who grew up in Guyana, is sure she received her art gene from her maternal grandfather, a master boatbuilder of Portuguese descent. The thing that continues to baffle her is the fairly smooth transition she has made from constructing bas-relief forms to staring at a monitor for over 12 hours a day.
---
Andrew Ross, Managing Editor, was the foreign and national editor of the San Francisco Examiner, and reported for the Examiner from the Middle East, Eastern Europe and Central America. He was assignment editor for KPIX-TV, the CBS affiliate in San Francisco, and news director for public television station KQED. He has also reported for National Public Radio and written for the London Times, Manchester Guardian, Redbook and Good Housekeeping.
Raised in Brighton U.K., Ross' love of music (and food) once drove him to sneak backstage at the Hippodrome, where he incurred John Lennon's wrath by nicking a sandwich from the Beatles' refreshments platter.
The current question on Ross' mind: How is it that Joe Eszterhas still gets $2 million per picture?
---
Gary Kamiya, Executive Editor, spent his early childhood in Chicago, where his scientist father, Joe Kamiya, was a pioneer in biofeedback research. After moving to California, he attended Berkeley High, where the student government was run by a dadaist cabal; put in a brief, LSD-riddled stint at Yale; and some aimless years later washed up in the UC-Berkeley English Department, where he won the Mark Schorer Citation in English Literature before earning an M.A.

After struggling for years as a starving theater critic, ex-graduate student and disgruntled former postal employee, Kamiya sold a story about an enormous motorized croquet game to Sports Illustrated and decided to quit his job as a taxi driver.

It was a poor career move. Pigeonholed by editors as a motorized giant-sport correspondent, Kamiya floundered. He helped launch Frisko, a short-lived San Francisco glossy, wrote occasional pieces for Art Forum and other high-prestige, low-pay journals and experimented with different recipes for boiled potatoes.

He had just entered the formulaic stage at which consumptive writers begin waving their crumpled manuscripts at "respectable citizens" in cafes when his friend and former editor David Talbot, who had just been hired to edit the San Francisco Examiner's Image magazine, took pity on him. After three years as a senior editor at the magazine, Kamiya moved to the paper's Style section, where he served as book editor, movie critic and media columnist.

Kamiya lives on a street with cable cars with his wife, Kate Moses, and her son Zachary. He likes big cities, '50s paperbacks with gratuitous cleavage on their covers, Steve Young, backpacking, Italy and people who like to talk.
---
David Weir, Consultant, was supposed to be an actuary, according to the family game plan, but the idea faded when he failed to grasp the Fundamental Theorem of Calculus despite his professors' best efforts at the University of Michigan. Instead, he wandered over to the Michigan Daily and began reporting and writing stories. He began his journalism career at Rolling Stone in 1974, making a name for himself with a three-part series on the the underground exploits of Patty Hearst and the Symbionese Liberation Army. He later co-founded the Center for Investigative Reporting, whose stories on the global dumping of hazardous waste and pesticides, atomic veterans and Huey Newton and the Black Panthers won a string of prizes, including the National Magazine Award.
On the side, he started writing film scripts, one of which, Rollover, starred Jane Fonda and Kris Kristofferson. The movie bombed in the U.S. (ending an impressive string of Fonda box office successes), but scored big in the Middle East.
With an unerring sense of timing, Weir joined the managerial ranks of public broadcasting, signing on as executive vice president of KQED in San Francisco just as Congress decided to "zero out" PBS. He's convinced the Internet has more of a future.
---
Laura Miller, Senior Editor, wrote a letter one day to a magazine edited by David Talbot, in response to an article written by Gary Kamiya, and the next thing she knew she was working with both of them on the most exciting Web site around. Actually, in between those momentous events, she kept busy -- writing about movies, books, theater, digital culture and social issues for San Francisco newspapers and national magazines, including the San Francisco Examiner, Harper's Bazaar and Wired; working as a part-time spokesperson for the worker-owned feminist erotica company Good Vibrations; and spending a lot of time online. One day she hopes to be reclining on a balcony overlooking a canal in Venice, Italy, reading the entire works of Henry James, but this'll do for now.
---
Scott Rosenberg, Senior Editor/Technology, grew up in Queens, New York on a mixed diet of Tolkien, Heinlein, Shakespeare and Monty Python. His publishing career began in his teens with a mimeograph in the basement, and continued at the Harvard Crimson, where his skills at changing the ribbons on old Royal typewriters came in handy. He wrote for the Boston Phoenix for three years and then joined the San Francisco Examiner, where he spent ten years as a theater, movie and multimedia critic and won the George Jean Nathan Prize for theater criticism in 1989. His writing has appeared in Wired magazine, the New York Times, the Washington Post, the Village Voice and elsewhere. He loves the Web -- he helped edit the San Francisco Free Press during the 1994 newspaper strike and subsequently launched his own site, Kludge [ http://www.dmz.com/dmz/ ] -- but sometimes misses the smell of raw ink.
---
Joyce Millman, Senior Editor/Television and Music, began her career as a pop music critic for the weekly newspaper the Boston Phoenix; eventually, she also became the paper's TV critic. In 1987, she moved to the Bay Area and became the TV critic for the San Francisco Examiner. During her eight years at the Examiner, she was a finalist for the Pulitzer Prize in Criticism twice, in 1989 and 1991. She dares you to name the writers who actually won.
Millman has an idea for a cable channel called "The Loser Network" that would air nothing but reruns of "The Ben Stiller Show," "My So-Called Life," "Cop Rock," "Get a Life" and "Shannon's Deal,'' all shows for which she professed her love in print, but which nevertheless bombed.
Millman has always had an affinity for disasters. Her hometown almost completely burned down when she was 14. She was listening to Kate Bush's "The Sensual World" (on vinyl) when the Loma Prieta earthquake struck. Her son was born on October 20, 1991, the day of the Oakland hills firestorm. Hopefully, this doesn't bode ill for Salon.
---
Howard Rheingold, Contributing Editor, is the former executive editor of HotWired magazine and the author of The Virtual Community. An internationally renowned advocate of free, uncensored online communication, Rheingold's home page, Brainstorms (www.well.com:80/user/hlr/index.html), is a virtual fixture on Netscape's What's Cool list. His shoes defy description. Rheingold lives with his wife Judy and daughter Mamie in the San Francisco Bay Area.
---
Dwight Garner, Book Editor, was an editor with Harper's Bazaar and has reviewed books and profiled authors for the New York Times, Vanity Fair, the Village Voice, The Nation, and other journals. He lives with his wife in a tiny, book-crammed apartment in New York City's Greenwich Village, where he worries about avoiding the fate of one Ms. Elinor Barry, who, according to her obituary in the Times, died after "a giant pile of books, newspapers and press clippings" collapsed on her and "muffled her cries for help."
---
Cynthia Joyce, Assistant Editor, was a researcher for Mother Jones magazine. She covered NAFTA for the Mexico City News and still doesn't get it. She reviews music for Rolling Stone Online and as a musician does her part to make violins the next nerdy-turned-cool instrument in rock and roll.
---
Paul Vachier is a graphic artist and HTML author. Besides being a regular contributor to Word online magazine, he has designed web sites for San Francisco State's Multimedia Program, London Records and is currently working on a site to promote Michael Jackson's upcomig HBO concert. He's also a student at the Academy of Art college in San Francisco.
In more important matters, Paul was voted a "Babe of the Web" on the "babes of the Web II" site (http://www.wkgroup.com/~babes/california.html, for those of you with low, Baywatch-like sensibilities.)
---
Copyright 1995