IBM Poughkeepsie... from munitions to mainframes!
IBM
Located in the scenic Hudson River Valley of New York State, IBM Poughkeepsie has been home to the development and manufacture of rifles, electric typewriters, keypunch machines, calculators, tape drives, large system software and mainframe computers. First housed in a former pickle factory, operations at IBM Poughkeepsie began in 1941.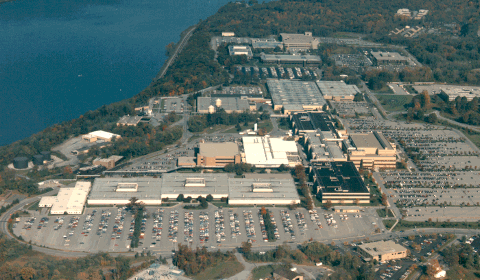 "We're very proud of our long association with the Mid-Hudson Valley," said Frank Jones, IBM vice-president, worldwide manufacturing and MHV site general manager.
---
"For over 50 years, we have built a tradition of excellence here in Poughkeepsie -- a commitment to being the best in everything we do. While our mission now involves advanced computing products with capabilities the employees in 1941 could never have imagined, we share their same passion for quality and customer satisfaction."
---
A U.S. government contract for the manufacture of munitions was awarded to IBM Poughkeepsie in June of 1941. During World War II, the plant made 20-millimeter aircraft cannons, Browning automatic rifles, .30-caliber carbines and parts for aircraft to support America's war effort.
By the end of 1941, when Poughkeepsie's first manufacturing building was occupied, the plant population had grown to 250 employees. During the war years, Poughkeepsie produced more than $196 million in munitions and other products for the government.
In 1944, production of IBM's Electromatic Typewriter began at the Poughkeepsie site. That same year, IBM purchased Cliffdale, a 217-acre estate in Poughkeepsie that belonged to the Kenyon family. The Kenyon House became the original home of the Poughkeepsie Lab, the birthplace of many advances in IBM technology.
More than 10,000 people attended dedication ceremonies for Poughkeepsie's second manufacturing building, a 250,000 square foot manufacturing facility, in 1948. Guest speaker Dwight D. Eisenhower, then president of Columbia University, said, "We are dedicating this magnificent building to the future of America."
In 1952, Buildings 003 and 004 were dedicated, adding 632,000 square feet of manufacturing space to the site. Mrs. Eleanor Roosevelt was the guest speaker at those festivities.
During the late 1940's, '50s and early '60s, electrical accounting machines -- such as keypunch machines, bank proofs, and sorters -- were a key part of the Poughkeepsie product line. In fact, it wasn't until 1962 that IBM's revenues from computers exceeded those of the company's traditional products.
IBM's first commercial computer, the 701, also known as the Defense Calculator, was developed and manufactured in Poughkeepsie, using a special vacuum tube for its main memory.
The 700 series was enhanced in the mid-1950's when magnetic ferrite cores were used for immediate access stores, replacing the cathode ray tubes of earlier machines. IBM adapted pill-making machinery to produce cores by the millions into the 1960's.
Building 701 was built on the Kenyon property and dedicated in 1954, as the new home of the Poughkeepsie Development Lab. By this time, IBM Poughkeepsie had roughly 8,000 employees working in over 400 different departments.
IBM Poughkeepsie's proud tradition of innovation continued through the 1950's and '60s. In 1956, IBM shipped SAGE (Semi-Automatic Ground Environment), a 113-ton machine containing thousands of vacuum tubes. SAGE, developed in the Hudson Valley, processed data from outlying radar defense networks for immediate evaluation.
That same year, IBM and the U.S. Atomic Energy Commission announced a development contract for STRETCH, a general purpose supercomputer. In 1961, IBM Poughkeepsie shipped STRETCH to the Los Alamos Scientific Laboratory in New Mexico.
Another Poughkeepsie product, the 7000 series of general purpose computers, was developed in the late 1950's and early '60s. The 7000 series used a new technology with tiny transistors, only 1/200th the size of the bulky vacuum tubes they replaced.
In 1962, the SABRE airlines reservation system, the largest system yet developed for a private customer, was shipped from Poughkeepsie to American Airlines. SABRE eventually linked 1,000 ticket sales desks in 65 U.S. cities.
In 1964, IBM unveiled System/360 in Poughkeepsie. A completely new family of products, System/360 was one of the most important product announcements in IBM history. Models included small to large computers that embodied many new computing techniques, such as compatible processors and peripheral devices, revolutionary operating systems, time-sharing and virtual memory.
The System/360 used solid logic technology (SLT) modules to carry and control the electrical impulses that represented information.
In 1966, the Poughkeepsie Programming Center shipped Operating System/360 (OS/360) Primary Control Program (PCP) Release 1 and changed the scope of software. An operating system is a collection of programs that manages the internal workings of a computer. Before operating systems existed, a computer operator would insert punch cards or tapes with an encoded program into the computer.
In 1970, IBM introduced System/370, the first general purpose business system to use monolithic circuits in all memory and logic functions. Monolithic systems technology (MST) contained several complete circuits on a silicon chip, while SLT contained a single circuit on a chip.
A new packaging concept known as the thermal conduction module (TCM) which reduced the number of interconnections found in earlier processors, was introduced with the IBM 3081 in 1980. Each TCM contained more than 100 logic chips.
In 1985, IBM announced the 3090 processor, faster and more powerful than the 308X family. The 3090 model was the first IBM mainframe to use one million bit memory chips.
In 1990, IBM made public its most comprehensive series of products, features and functions in more than a quarter century -- the System/390 with the IBM Enterprise System/9000 (ES/9000) family of processors which were developed and manufactured in Poughkeepsie.
IBM announced the first customer shipment under general availability of the ES/9000 Model 900, its most powerful mainframe computer, in September of 1991.
In February of 1993, IBM announced the scalable POWERparallel System. Products began shipping in the late summer with general availability of the "SP1" announced in September of 1993. In April of 1994, IBM announced the "SP2" based on POWER2 microprocessors. These machines have features that make them particularly well-suited for the commercial marketplace.
Continuing to transform products to meet customer needs, the first general purpose microprocessor-based systems were announced in September of 1994. The S/390 Parallel Enterprise Servers reduce floor space, cut energy consumption and lessen maintenance and service charges making them more cost-effective.

Today, Poughkeepsie is responsible for the development and manufacture of IBM's most powerful large-scale computing systems, which are used by many large organizations to manage the flow of vast amounts of information. The site also develops, manufactures, tests and ships intermediate processors and is responsible for the operating systems and subsystems software, which are the system platforms driving the processors.
"IBM Poughkeepsie is the leading employer in Poughkeepsie, with over 5000 people in 1994," said Frank Jones. "Most of these dedicated employees are part of IBM's Large Scale Computing Division. Everyone here in Poughkeepsie is dedicated to our customers. We are striving to provide competitively-priced computing and easy interoperability with all other platforms making the mainframe an affordable, flexible server." /p>
IIf you have questions about IBM Poughkeepsie or would like to receive additional historical information, contact the Poughkeepsie Communications Department via e-mail: cloutier@vnet.ibm.com.
Copyright 1995