Microsoft Phone

Microsoft Phone turns your computer into a versatile speakerphone, answering machine, and fax -- so you can be more responsive and professional at work.

Microsoft Phone mades up of ...... Microsoft Phone [ http://www.cle.creaf.com/wwwnew/products/comm/msphone.html#msphone ] and Microsoft Voice [ http://www.cle.creaf.com/wwwnew/products/comm/msphone.html#msvoice ].

Microsoft Phone

You can .... Create a centralized message center in your home or office. Master the most complex phone tasks in seconds. Discover how productive you can by maximizing the MS Phone. Enhance your professional image.
Below are some of the features that are offer in this Microsoft Phone software.
Microsoft Phone Dialing and Answering

Features uo to 40 voice-capable, speed-dial buttons.
Fax ready!
Provides a list of the most recently called numbers for easy dialing.

Microsoft Phone Answering Machine/Voice Mail

Provides password-protected voice mailboxes
Supports multiple mailboxes.
Use the Microsoft Phone Quick View feature to rapidly access your e-mail and voice-mail messages.

Microsoft Phone Call Management

Provides a user-configurable call log for viewing summaries of all incoming and outgoing calls.
Unifies voice messages with e-mail and fax messages in the Microsoft Exchange Inbox.
The DO NOT DISTURB feature sends callers directly to the answering machine when you don't wish to receive phone calls.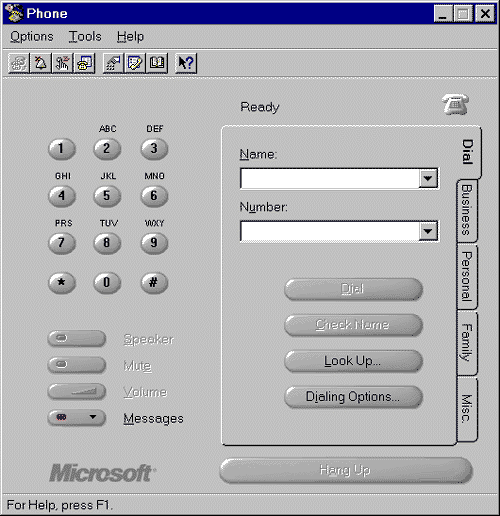 How I can use Microsoft Voice?
You can :
Use voice commands to start programs.
Use voice commands to accomplish many Windows tasks.
Use voice commands to carry out menu commands in your Windows-based programs.
Full vocabulary, text-to-speech functionality provides read-back of any Windows document, even over the phone. (Note that over the phone, you can only read back e-mail messages or inary faxes, but not documents.)
Create custom voice commands for any program.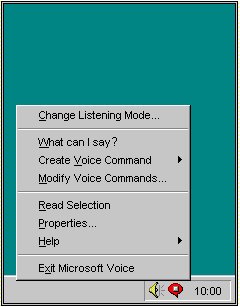 Specifications To use Microsoft Phone and Microsoft Voice, You need: Personal computer with a 486/33SX or higher processor Microsoft Windows 95 operating system 8 MB of memory An additional 4 MB memory recommended for use of Microsoft Voice Typical hard-disk space required : 9MB Microsoft Mouse or compatible pointing device Windows 95-compatible voice/data/fax modem Audio card (if your modem does not have audio capability)
Copyright 1996