Phone Blaster™ 28.8 PnP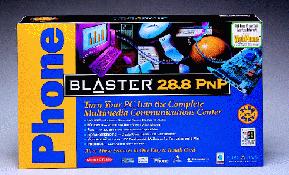 The all-in-one PC communications management system.
Phone Blaster™ 28.8 PnP is a comprehensive multimedia communications system that sets a new standard for performance, convenience and ease of use.

Microsoft® Phone lets you create a centralized message center, complete with speakerphone, answering machine and fax capabilities. So you can be as productive away from your PC as you are in front of it. Use the SuperVoice 2.2b™ (for DOS/Win 3.x) application to set up voicemail/email mailboxes, transfer large files or send faxes from your computer at mind-tingling 28.8 Kbps speeds. Plug-and-Play compatibility makes installation a snap. What's more, the included full-duplex speakerphone and genuine Sound Blaster® 16 audio provides crystal-clear, hands-free conversations.
Transform your business PC into a complete multimedia communications center with Phone Blaster 28.8 PnP today.
Turn your PC into the complete multimedia communications center
Sound -- industry standard Sound Blaster 16 audio card
Modem -- 28,800 bps high-speed voice modem
Fax -- 14,400 bps send and receive capabilities
Speakerphone -- crystal clear hands-free conversation with SuperVoice
Voicemail -- up to 1,000 configurable mailboxes for fax, voice and e-mail
Internet -- easy access onto the net! with free trial CompuServe account
---
Features and Specifications

Features

Telephone Management
Unified message box lists voicemail, faxes, recorded conversations and files received
Integrated phonebook includes voice, fax and pager numbers, in addition to mailing and email addresses
Caller ID support
Pager notification of new messages
Tollsaver support
Remote access allows constant communication with Phone Blaster away from the office
Data/Fax Modem
Modem data transfer of 28.8K/14.4K/9600/4800/2400 bps
Data modem throughput up to 115.2 Kbps
Error correction - V.42 LAPM and MNP2-4
Data compression - V.42 bis and MNP 5
Fax Features
Fax-on-demand and fax forwarding
Signature and logo support for quick faxes
Automated cover sheet generation
Rotating, scaling, zooming, half-toning and edge-smoothing
PCX, TIFF and BMP support
Voice
Full-featured, full-duplex speakerphone with echo cancellation provides uninterrupted, clear communication between parties
Voicemail sending
Primary and secondary outgoing greetings
Microphone/handset switching for recording and speaker/handset switching for playback
Specifications
16-bit digital audio
8-bit and 16-bit selectable stereo sampling and playback
Sample and playback rates from 5 - 44.1 kHz
Recording sources from MIDI, CD audio, line-in, microphone, phone line
Playback mixing of digitized audio, MIDI, CD audio, line-in, microphone, PC speaker, phone line
Controls for master volume, digitized audio, MIDI, CD audio, line-in, microphone, phone line
Input/output gain select
DOS and Windows-based mixer utilities
Power Amplifier
4 watts per channel (PMPO)
Load impedance 4 ohms or more
Interfaces
Built-in connectors for IDE CD-ROM drive and Wave Blaster®II daughterboard for wave-table synthesis
Onboard connectors
Input - analog telephone, line-in, microphone, CD audio, PC internal speaker
Output - speaker/line out
IDE CD-ROM interface
15-pin joystick/MIDI connector
Modem Resource Selection
COM Port selection: 1 through 8
Interrupt (IRQ) selection: 3,4,5,7,10,11 or 15
CT3220 audio/modem card specifications
Data Modem throughput to 115.2 Kbps: V.34, V.32bis, V.32, V.22bis, V.22 A/B, V.23 and V.21
Bell 212A and 103
V.42 LAPM and MNP2-4 error correction
V.42bis and MNP 5 data compression
Fax modem send and receive rates up to 14.4 Kbps: V.17, V.29, V.27ter, and V.21 channel 2
Voice mode: tone detection/generation & call discrimination
Communication software compatible command sets: AT, fax class 1 and 2, and voice commands
Calling Number Delivery Caller ID detect (US only)
Tone/pulse dialing
Voice recording through microphone or handset
Playback messages through speaker or handset
Bundled Software

Microsoft® Phone [ http://www.cle.creaf.com/wwwnew/products/comm/commdm.html ] (Windows 95)
from Microsoft Corporation

Microsoft Phone turns your computer into a versatile speakerphone, answering machine and fax, to help you improve your productivity. Create a centralized message center or even master the most complex phone tasks.

SuperVoice 2.2b [ http://www.cle.creaf.com/wwwnew/products/comm/commdm.html ] (Windows 3.1)
from Pacific Image Communications, Inc.

SuperVoice 2.2b for Windows is a comprehensive application that provides voice, fax and data communications. Create up to 1000 voicemail boxes, 99 fax-on-demand folders and a personal BBS. Also included are music-on-hold and Caller ID features.

WebPhone™ [ http://www.cle.creaf.com/wwwnew/products/comm/commdm.html ]
from NetSpeak Corporation

WebPhone is the professional, full featured Internet telephone with integrated voicemail that provides telephone quality, real-time, full duplex, point-to-point voice communication. Talk to anyone, anywhere on earth without incurring any long distance charges.

Microsoft® Internet Explorer (Windows 95)
from Microsoft Corporation

Microsoft Internet Explorer unlocks the potential of the Internet by opening the Web to great new content, providing the best browser performance, and with as much ease as using Windows 95.

Creative's family of audio titles --

Enjoy maximum results from standard-setting Sound Blaster 16 technology with Creative Multimedia Deck™, Creative WaveStudio™, and Creative Soundo'LE™.

System Requirements
486DX/33 with 8 MB RAM (12 MB needed for Microsoft Voice)
16 MB of free hard disk space
Full-length 16-bit ISA slot
DOS 6.0 or higher
Windows 3.1 and above (Win 95 needed for Microsoft Phone)
EGA or VGA card (VGA recommended)
Speakers
CD-ROM drive for bundled software
Copyright 1996