The PC Companion

Compaq Sets the Standard

This is the place to find out more about the new Compaq PC companion. With the breakthrough Microsoft Windows CEŠ operating system (featuring a Windows 95-like interface), the PC companion delivers new functionality to handheld computing. Use the scheduler to plan your day, or the built-in pocket versions of Microsoft Word and Excel to create, update and store your files. But most importantly, you can synchronize any of the information on your PC companion with your PC in one easy step!

Check out the following sections, to find out more about the PC companion.
---
General Features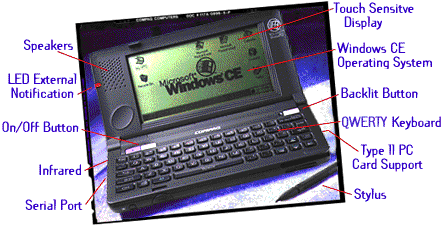 Small Size
The PC companion is 6.8"x 3.6"x 1" and weighs only 13.4 ounces with batteries. It fits easily in your pocket, and allows for convenient, easy traveling.
RAM/ROM Memory
Each PC companion features at least 2 MB of RAM (upgradable) to provide enough room to add additional applications, run multiple programs simultaneously and store volumes of data. Standard 4 MB of ROM contains the operating system and embedded applications.
Touch-Sensitive Display
The screen is a backlit 480x240 display with four shades of gray. It features a touch-sensitive display with stylus for navigation and data entry.
QWERTY Keyboard
The PC companion features a standard keyboard for traditional data entry.
LED External Notification
An LED is provided for silent notification of events with an external button to quickly acknowledge alarms without opening the unit.
Speaker
The speaker is used for sound such as notification alarms and playing .WAV files.
On/Off Button
This button turns the unit on and off.
Type II PC Card Slot
The PC companion features a Type II PC Card slot which can be used for modem communications and additional data storage.
Protective Clamshell Design
The solid clamshell design of the PC companion protects the keyboard and display from the rigors of everyday travel while remaining light and functional.
Windows CE Operating System
The PC companion features the new Windows CE operating system from Microsoft. Windows CE features the familiar Windows 95 interface, providing you with the same functionality you've learned to enjoy on your PC.
Bundled Software
Pocket versions of Word, Excel, Inbox, Internet Explorer and Microsoft Information Manager are included to provide for time management, data entry and access, Web browsing and e-mail exchange. Desktop companion applications include Handheld PC Explorer for convenient "drag and drop" data exchange, and Microsoft Schedule+ for automatic schedule synchronization.
Serial Port
The PC companion features one serial port that provides PC connectivity.
PC Connectivity
Simply plug the serial cable into your PC companion, and attach the other end of the cable to your PC. Load the Handheld PC Explorer software onto your PC, and you're ready to synchronize your PC companion files with your PC in a single click.
AA Battery Support
All PC companions are powered by two AA batteries, lasting up to 20 hours without replacement. Optional NiMH battery pack is also available for the convenience of rechargeable power.
Backlit Button
This button activates the backlit display, which improves screen visibility in dark surroundings.
Stylus
For easy navigation on the touch-sensitive display.
Infrared
Infrared port allows for wireless information exchange with another Compaq PC companion for quick, easy file sharing.
Battery Backup
Lithium back-up battery prevents data loss caused from lack of primary battery or AC power.
Compaq Warranty
One year worldwide limited mail-in warranty backed with Compaq's industry-leading service and support offerings.
---
Comparisons
Features Unique to Each Model
C120

C140

C120+

Standard RAM:
2 MB
(expandable to 4 MB)
4 MB
(expandable to 6 MB)
2 MB
(expandable to 4 MB)
PC Card Modem:
Optional
Optional
Standard 14.4 Kbps LP PC Card modem
AC Adapter:
Optional
Optional
Standard
Quick Connect:
Optional
Optional
Standard
Est. Street Price:*
$499
$599
$699
Features Standard on All Models
Dimensions (WxDxH):
6.8"x3.6"x1"
Weight:
13.4 ounces
Form Factor:
Clamshell
Screen:
480 x 240 2-bit Touch-Sensitive Display, 4 shades of gray
ROM Memory:
4 MB
Battery life:
Up to 20 hours
Input Mechanisms:
QWERTY keyboard, Stylus
Communications Support:
PC Card Modem, Infrared, Serial
Operating System:
Microsoft Windows CE (with Windows 95 interface)
Bundled Software:
Information Management Software
(includes Calendar, Task, Contacts)
Pocket Word
Pocket Excel
Pocket Internet Explorer
InBox (an e-mail client)
Remote Dial-up Networking
Terminal
World Clock
Calculator
Solitaire
Pocket Help
Additional Applications Included:
Desktop-To-Go by Dataviz
(provides file compatibility with non-Microsoft PIM,
word processor and spreadsheet applications)
Mail on the Run! by River Run
(provides additional support for Microsoft Mail
and Lotus cc:Mail)
Desktop Software:
Handheld PC Explorer
(for one-touch file synchronization between your
companion and your PC.)
Microsoft Schedule+

Synchronization:
Serial Cable included
Two-way Paging Support:
Yes
E-mail Support:
Yes
Internet Connectivity:
Yes
Compaq Warranty:
Limited One Year Service and Support (mail-in warranty)
* Actual dealer price may vary.
Note: Model availability varies based on where product is sold.
---
Copyright 1996