Handheld PCs
Casio Inc.
Cassiopeia A-10
PC Magazine
January 21, 1997
Despite its celestial name, Casio's $499 Cassiopeia A-10 is a down-to-earth and economical PDA. The Cassiopeia tries to differentiate itself from the growing crowd both by price and by offering unique software extras, but it was the most basic and least functional of the three devices we looked at.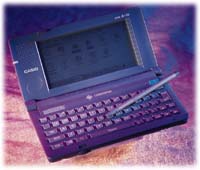 At just $499, Casio's Cassiopeia A-10 set the pace as the least expensive Windows CE system available.
The Cassiopeia measures 6.8- by 3.6- by 1-inch, making it the smallest of the devices we tested--if only by a hair. Ready for a day on the job, it weighs 13 ounces with its pair of AA batteries in place but without its AC adapter. The device can accept a Type II PC Card, and it has a serial port and an IrDA wireless infrared port.
Like the MobilePro, the Cassiopeia comes in two memory configurations. The A-10 model we looked at came equipped with 2MB of RAM, but we suggest you consider the A-11 model, which comes with 4MB of RAM and costs about $100 more. Both the A-10 and A-11 units come with 4MB of ROM, compared to 8MB for both the MobilePro and Velo 1. This extra space for storing BIOS commands, operating systems, and applications will probably come in handy as this species evolves. The Cassiopeia's 0.5-inch speaker to the left of its display was barely adequate for playing .WAV files.
Based on a Hitachi SH-3 RISC processor, the Cassiopeia performed our recalculation on a 25K Pocket Excel spreadsheet in 4 seconds, which was slightly slower than the MobilePro and Velo 1--3 and 2 seconds, respectively. On our spell-check test on a 35K Pocket Word file with 12 errors, the Cassiopeia again took up the rear at 19 seconds. Although it is clearly the laggard of these three devices, the Cassiopeia did quite well when you consider that it has less memory than the other two.
The Cassiopeia comes with several unique business applications designed to allow fax and wireless e-mail communications, but you're on your own as to which modem to use it with. For business users shopping in this price range, the inclusion of a high-end financial calculator alone may make the Cassiopeia the best choice.
Casio Cassiopeia A-10. List price: With 2MB RAM, $499. Casio Inc., Dover, NJ; 888-204-7765; fax, 201-361-3819.
www.casio.com
Copyright 1997