Handheld PCs
NEC Electronics
MobilePro 400
PC Magazine
January 21, 1997
NEC's MobilePro 400 is a fully functional Windows CE system that is middle of the road in all respects. It's positioned for cost-conscious users and lacks the expandability, hardware extras, and unique software offerings found in Philips's Velo 1 system. But considering its price tag, the MobilePro is a good value.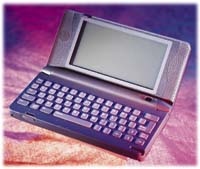 NEC's MobilePro 400 offers the best mix of file- synchronization software for keeping your data in all the right places.
Measuring 6.9- by 3.7- by 1-inch and weighing 13 ounces without its AC adapter but with a pair of AA batteries in place, the MobilePro is slightly larger than the Cassiopeia and the Velo 1. Its connections with the outside world include one Type II PC Card slot, one serial port, and one IrDA infrared wireless port.
The MobilePro comes in two flavors: a MobilePro 200 version with 2MB of RAM and the 4MB MobilePro 400 we evaluated. Both versions come with 8MB of ROM, which is equal to that of the Velo 1 and twice that of the Cassiopeia.
Like the Cassiopeia, the MobilePro has a barely passable 0.5-inch speaker on the left side of the display panel for sound effects. The MobilePro has a docking unit called the MobilePro Cradle, which facilitates easy file transfers to a PC; just snap the unit into the cradle and run the included software.
The MobilePro is based on a NEC V4101 CPU running at 33 MHz. On our tests, the MobilePro was the midrange performer of this Windows CE trio. On its Pocket Excel recalculation and Pocket Word spell check, the MobilePro was nestled between the Cassiopeia at the low end and the Velo 1 at the high end.
In addition to the standard software offerings in Windows CE--including Pocket Word, Pocket Excel, Internet Explorer 2.0, and several PIM modules--the MobilePro comes with a CD-ROM-based set of utilities called Windows CE Manager for synchronizing data between the PDA and a desktop PC. These applications made it easier to keep your data up to date and in the right place.
At $649, the 4MB MobilePro emphasizes the synchronization of data with a desktop or notebook PC and could very well be the value compromise between the power and flexibility of the Velo 1 and the economy of the Cassiopeia. It's the Windows CE PDA for those who need to live on a strict budget but don't want to compromise.
MobilePro 400. List price: With 4MB RAM, $649. NEC Electronics, Computer Systems Division, Mountain View, CA; 800-632-4525, 415-528-6000.
www.nec.com
Copyright 1997