IMT-2000 Radio Interface Specifications Approved in ITU Meeting in Helsinki
5 November 1999
Geneva – The group of radio experts on IMT-2000 (ITU-R Task Group 8/1) meeting in Helsinki from 25 October to 5 November 1999 approved a comprehensive set of terrestrial and satellite radio interface specifications for IMT-2000. These specifications incorporate the flexibility required by existing mobile operators to seamlessly evolve their pre-IMT-2000 networks towards third generation service capabilities as well as meeting the various specific needs of operators of new satellite and terrestrial systems.
The IMT-2000 terrestrial standard consists of a set of radio interfaces which allow performance optimization in a wide range of radio operating environments (see figure)1. Satellite interfaces cover LEO, MEO and GEO orbits as well as those specifically aimed at maximizing the commonality between terrestrial and satellite interfaces.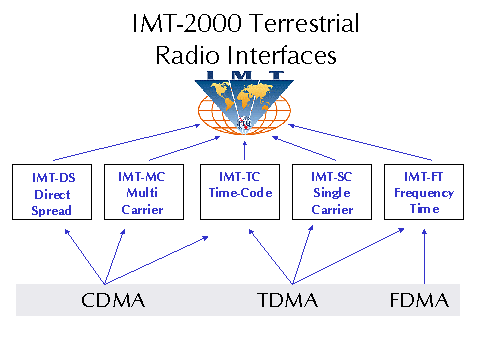 IMT-2000 will provide wireless multimedia service capabilities, harnessing the power of the Internet for e-commerce while on the move, instant access to personal or business information and for entertainment. The economic benefits of this new global standard will be felt by all ITU Member States as wireless access provides a cost-effective solution to the "telecommunications gap" between developing and developed countries. "It is particularly important to narrow this gap as we move into the 21st century where timely access to information will be essential for economic progress" Mr Yoshio Utsumi, ITU Secretary-General said at the close of the meeting.
Agreement on the IMT-2000 radio specifications means that, for the first time, full interoperability and interworking of mobile systems can be achieved. Thus, mobile terminal manufacturers will be able to build units which work anywhere in the world irrespective of the specific network or radio options chosen by the operator providing mobile services at that specific location.
"As we move towards IMT-2000, mobile users should see an increasing range of service capabilities which they are likely to want to enjoy anywhere they go" added Mr Utsumi. "The ITU has delivered on its commitment to provide the international community with a standard that enables full interoperability of third generation mobile systems", he said. "The extent to which the promises of this new wave of communication can become a reality for every consumer now depends on the delivery of the IMT-2000 implementation" he concluded. Only if all IMT-2000 radio options are available everywhere, can operators truly compete globally and manufacturers achieve maximum possible economies of scale.
IMT-2000 radio specifications plus additional IMT-2000 recommendations on Quality of Services and the use of High Altitude Platform Stations will be presented to ITU-R Study Group 8 for endorsement at its meeting in Geneva (10-12 November 1999). This meeting of Study Group 8 will also decide on the future ITU-R working group structure for ongoing IMT-2000 standard developments and preliminary studies of systems beyond IMT-2000.
Formal approval of these IMT-2000 Recommendations at the ITU Radiocommunication Assembly (1-5 May 2000), and their associated final approval and balloting by the other Standards Development Organizations working with the ITU to define global standards for third generation mobile systems, will allow IMT-2000 services to begin commercial operation in 2001. Finland recently awarded the first licenses for IMT-2000 services making it a particularly appropriate location for this highly successful standards meeting.
| | |
| --- | --- |
| 1 | Technical note: The radio interfaces shown in the figure are commonly known by the following names: UTRA FDD (WCDMA) for IMT-DS; cdma2000 for IMT-MC; UTRA TDD, and TD-SCDMA for IMT-TC; UWC-136 for IMT-SC; and DECT for IMT-FT. |