Technology
The Computer Entering Home
By Peter J Schutten
The New York Times
December 6, 1978
The long-predicted convergence of such consumer electronic products as television sets, videotape recorders, video games, stereo sound systems and the coming video-disk machines into a computer-based home information-entertainment center is getting closer.
In fact. the two newest entries into the computer end of this development are companies that have roots in the video-game business. Last week Warner Communications Inc.'s Atari unit, the world's leading maker of video games, disclosed that it was on the verge of introducing its first home computers, while two weeks earlier the Alpex Computer Corporation. a small Danbury, Conn., company; unveiled its offering in the field.
Actually the home computer is similar in function to its bigger brother, the minicomputer. The major difference is that a home computer is slower — it might take 10 millionths of a second to execute an instruction, compared with, say; a millionth of a second for the minicomputer. But it also is considerably cheaper. Today these small data-processing units are selling for $600 to $2,000, while the starting price for most minicomputers is $10,000.
Although barely two years old, the market for home computers is soaring. According to Creative Strategies International, a San Jose, Calif., market research company, demand for home computers will grow from $385 million this year to $3.5 billion in 1982.
It is hardly surprising, then, that many companies, some 50 at last count, are falling all over themselves to get into the market.
The current leaders are the Tandy Corporation's Radio Shack division, with its TRS 80 model; Commodore International, with its PET machine, and Apple Computer Inc. of Cupertino, Calif., which sells the Apple II computer.
Next year, however, the shape of the industry should change as such leaders in the electronics industry as Texas Instruments and Hewlett-Packard enter the field.
Strictly speaking, the name home computer is something of a misnomer, since the machines are being sold as much to the small business man and professional-person as they are to people who put them in the kitchen, den or living room.
What exactly can these machines do? After all $600 buys a lot of paper and pencils. Even a programmable calculator can be had for a lot less than $100.
Built around integrated-circuit microprocessor-based technology, the home computer uses memory and software programming to calculate, display and manipulate data displayed on a television screen. With a typewriter-like keyboard, the user can store financial records, prepare his income tax, analyze investments, call up stock market data and generally organize household finances. In addition, video games can be played on them, and students can use them to help with homework. All this can be done with no prior computer programming experience.
Essentially, the home computer allows users to perform calculations or analyses that are too complex or too tedious to do on their own or with a calculator. One owner of an Apple II in Texas is using it to control the position of a seagoing drilling rig. By means of an analog-to-digital input device, he has the computer scanning 128 position-indicators every three milliseconds. These readings are then fed to servomotors, which in turn control the position of the rig.
In a more common application, a home computer can quickly determine which method of income-tax filing is most advantageous. In addition, it can be programmed to record by category of purchase each check that is issued. At the end of the year, then, the machine calculates the amount of sales tax paid, figuring it into the return. The owner of such a machine can also keep a running tally of how much of the household money is going for items such as food. clothing, liquor and fuel.
Beyond that, the home computer can be used as a kind of electronic filing device to store Christmas lists, recipes, car maintenance records, or even to inventory stamp or classical music collections.
In the professional sphere, a doctor might use one to enter a record of all his cases, indexing them by symptom, diagnosis and prescribed treatment; in the handling of new cases, such a file could be used to determine what kind of treatment worked best.
Similarly, a lawyer might cross-reference his case-work, recording it, for instance, by felony, misdemeanor, divorce, or eviction proceeding and thus reducing the time for researching new cases.
The main question most consumers should be asking at this point is whether it is wise to buy one now or wait for a price drop, which inevitably occurs with electronic products of this kind.
According to Apple Computer's chairman, Michael Markkula, prices will. of course, come down. "Whether you should wait depends upon your interest," he said. "There were people who paid $1,000 for a programmable calculator, and they knew the price would come down. They just felt the utility of the thing was fully justified to get it right then instead of waiting for a year or two."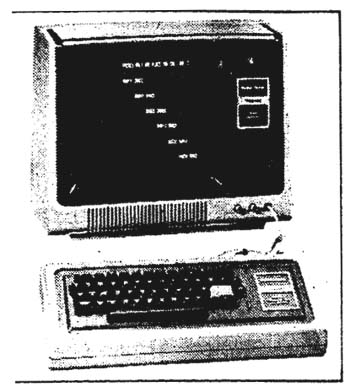 The Radio Shack home computer. Other companies are making plans to enter home computer market.
c. 1978 New York Times Company